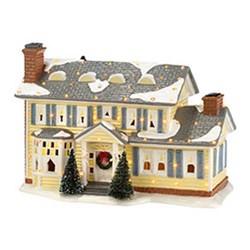 Mercerville, NJ (PRWEB) December 11, 2013
Tomorrow's Treasures is a staple in the Mercerville community and a true mom-and-pop shop. This family owned store recently celebrated their 40th anniversary and for nearly 30 years, they have been a Department 56 dealer offering an extensive inventory that other retailers are unable to offer.
In honor of the Department 56 village pieces retiring, Tomorrow's Treasures will be offering 20% off the current stock of pieces for a limited time including: Alpine, Christmas in the City, Dickens, Snow Village, Halloween, and A Christmas Story. Customers are welcome to order online or save on shipping by stopping by the store location at 154 Flock Road, Mercerville, NJ 08619. The store hours are Monday-Saturday 10am-3.30pm. For more information, please visit http://www.ttreasures.com or call 609.588.5288.
About Tomorrow's Treasures
Tomorrow's Treasures is a unique full service online shopping experience for all types of gifts and collectibles. They also have a very large selection of gift items. The online store makes purchasing easy and they can ship anywhere.
About NALA™
The NALA offers local business owners new online advertising and small business marketing tools, great business benefits, education and money-saving programs, as well as a charity program.
PR Contact: Tiffani Tendell
ttendell(at)starkartthenala(dot)com
805.650.6121 ext. 361