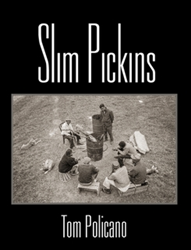 'This journey changed my life,' Policano says. 'This is a relevant topic that deserves to be documented. The text is sparse but powerful.'
Rochester, N.Y. (PRWEB) July 03, 2014
Ten years after CBS aired the 1960 documentary "Harvest of Shame," depicting the plight of the U.S. agricultural farm worker, author and photographer Tom Policano graduated from college. He decided to try his hand as a professional photographer with a follow-up documentary to "Harvest of Shame." He bases his new photographic journal, "Slim Pickins" (published by Lulu) on the details of everyday life for East Coast migrant workers of the '70s .
"Still today we discuss our under-employed, unpaid and marginalized workforces," Policano says. "This book is a never-before-seen record of that workforce in the early '70s."
For most of 1970 and 1971, Policano lived and worked alongside the farm workers depicted in the photographs in his book. The 309 photographic images in "Slim Pickins" offer a glimpse into the poor quality of the lives of seasonal farm workers: in the fields, orchards and their camps and homes.
Policano intersperses the imagery with snippets of conversations he remembers from people he met during those two years: explaining their situations, commenting on their lifestyles and discussing their attempts to organize a labor union.
"This journey changed my life," Policano says. "This is a relevant topic that deserves to be documented. The text is sparse but powerful."
"Slim Pickins"
By Tom Policano
Softcover | 8.5 x 11 in | ISBN 978-0-9915057-1-5
About the Author
Tom Policano has a bachelor's degree in electrical engineering from University of Rochester and a master's degree in photography from University of Buffalo. He spent the summer of 1973 studying documentary photography, bookmaking and the zone system with Ansel Adams in Yosemite National Park. He is a professor in visual communications studies at Rochester Institute of Technology.
Launched in 2002, Lulu pioneered the self-publishing industry and paved the way for people around the world to publish books and bring them to market, while allowing authors to retain full control of their work. Operating a global network, Lulu provides worldwide distribution so that authors can reach readers just about anywhere via print, e-readers and tablet devices. For more information, visit lulu.com or call (888)-265-2129.