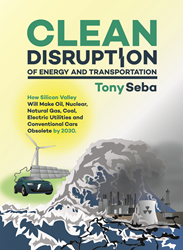 The industrial age of energy and transportation will be over by 2030
San Francisco, CA (PRWEB) September 04, 2015
The Deloitte Center for Energy Solutions has selected Tony Seba's book "Clean Disruption of Energy and Transportation" for its Energy Book Club program for the April-May 2016 reading period. To date the program has completed about 40 books, and US authors interviewed have included former Secretary of Energy Spencer Abraham, Pulitzer Prize winner Daniel Yergin, Nobel laureate Robert Laughlin, and Amory Lovins.
Seba's book "Clean Disruption of Energy and Transportation: How Silicon Valley Will Make Oil, Nuclear, Natural Gas, Coal, Electric Utilities and Conventional Cars Obsolete by 2030", an Amazon #1 Best Seller Energy Book, has changed the conversation about the future of energy by reframing it as a technology disruption. Seba's models show that exponentially improving technologies such as solar, energy storage, electric vehicles and self driving cars will disrupt conventional energy and transportation, the same way that technologies such as digital imaging, the web and mobile phones disrupted film photography, publishing and landline telephony.
The Deloitte Center for Energy Solutions (the Center) provides a forum for innovation, thought leadership, groundbreaking research, and industry collaboration to help companies solve the most complex energy challenges. Through the Center, Deloitte's Energy & Resources Group leads the debate on critical topics on the minds of executives - from legislative and regulatory policy, to operational efficiency, to sustainable and profitable growth. They provide comprehensive solutions through a global network of specialists and thought leaders. With locations in Houston and Washington, D.C., the Deloitte Center for Energy Solutions offers interaction through seminars, roundtables and other forms of engagement, where established and growing companies can come together to learn, discuss and debate.
Tony Seba is a Lecturer in Entrepreneurship, Disruption and Clean Energy at Stanford University, a serial Silicon Valley entrepreneur and author of "Clean Disruption of Energy and Transportation", "Solar Trillions" and "Winners Take All". His work focuses on market disruptions: the exponential technology trends and business model innovations that are leading to the disruption of the world's major industries, such as energy, transportation, infrastructure, food, healthcare and manufacturing. Seba has a Computer Science and Engineering degree from Massachusetts Institute of Technology and an MBA from Stanford University.
In addition to his book, Seba launched "Clean Disruption News Blog" to continue the conversation and keep his readers updated on this trending topic. For more information visit: http://www.cleandisruption.com or http://www.tonyseba.com