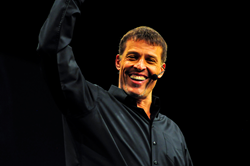 Dallas (PRWEB) August 21, 2014
World-renowned speaker, author, business coach and peak performance strategist Tony Robbins returns to Dallas for the first time in more than a decade for his four-day cornerstone event, Unleash the Power Within®. Robbins has designed a process that helps individuals take control of their lives, redefine what they want, create a plan to eliminate the chokeholds in their life, and rejuvenate emotionally, physically and mentally. He's communed with the Dalai Lama, walked on fire with Oprah and personally coached three of the past five U.S. presidents, amongst many other top leaders in the world. Join Robbins October 23 - 26 at the Dallas Convention Center to learn how to turn fear into power, learn the power of success conditioning and understand the 12 master principles of a vital life.
In alignment with Tony Robbins' philosophy that, "the secret to living is giving," Robbins Research International (RRI) has partnered with Feeding America®, the nation's largest domestic hunger relief organization. The Feeding America network distributes food to over 37 million Americans each year, including 14 million children and 3 million seniors. For every UPW ticket sold, RRI will be donating the equivalent of 90 meals to benefit local families in Dallas and the surrounding areas. With expected attendance in excess of 4,000 for this event, they aim to donate more than 400,000 meals to the Feeding America network of food banks.
Tony Robbins has directly impacted the lives of four million people from 100 countries over the last three and a half decades. Attendees will leave the UPW event with actionable next steps to transform and create the quality of life they desire and deserve in all facets, such as health, business and even personal relationships. Take Stacey Martino, who believed that her marriage was heading down a negative path after the birth of her first child with husband Paul. After attending UPW, Stacey now knows her marriage is "the single greatest thing in the universe – nothing compares to [their] love affair." Stacey had hoped that the event would jumpstart their relationship and rid her of her fear of getting pregnant again but she walked away with much more than a change in herself – her husband and her marriage were fully transformed. Just weeks after UPW, the couple was pregnant again and today, they own a successful business teaching clients from all over the world how to create unshakable love and passionate, everlasting relationships.
For more information on Unleash The Power Within® at the Dallas Convention Center, October 23 - 26, 2014, visit http://tonyr.co/UPWDallas.
ABOUT TONY ROBBINS:
Entrepreneur, Author, Business Coach & Peak Performance Strategist
For the past three decades, Tony Robbins has served as an advisor to leaders around the world. A recognized authority on the psychology of leadership, negotiations, organizational turnaround, and peak performance, he has been honored consistently for his strategic intellect and humanitarian endeavors. His nonprofit, Anthony Robbins Foundation, feeds more than three million people in 56 countries every year through its international holiday "Basket Brigade." Robbins has directly impacted the lives of more than 50 million people from over 100 countries with his best-selling books, multimedia and health products, public speaking engagements and live events.
What began as a young person's desire to help individuals transform the quality of their lives has grown into Robbins' lifelong crusade, as he is called on by leaders from every walk of life, including presidents, political leaders, advocates for humanity, CEOs of multinational corporations, psychologists, peak performance athletes, world-class entertainers, teachers and parents.
ABOUT FEEDING AMERICA
Feeding America is a nationwide network of 200 food banks that leads the fight against hunger in the United States. The organization provides food to more than 37 million people through 61,000 food pantries, soup kitchens, and shelters in communities across America. Feeding America also supports programs that improve food security among the people they serve, educates the public about the problem of hunger, and advocates for legislation that protects people from going hungry. Visit http://feedingamerica.org.