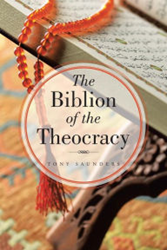 LONDON (PRWEB) October 22, 2015
Author Tony Saunders has a deep desire to write the stories of the prophetic leaders of the Abrahamic faiths in order to reveal the prophetic gift in others. His new book, "The Biblion of the Theocracy" (published by AuthorHouse UK), seeks to outline the development of God's relationship with humanity as seen through the eyes of some of his greatest leaders.
"The Biblion Theocracy" reveals to readers how the leaders of the Abrahamic faiths caused a powerful impact that molded religious and secular history. From Moses' Israelite movement, Jesus' story, Peter and James' radicalism, Paul's tribulations to Mohammed's early Muslim movement, detailed biographies depict what these historic leaders did, wrote and taught. These accounts reveal how even in the face of tragic moments, these prophets dared to stand up to the opposition and be spokesmen for a better world.
Being well versed in street life, Saunders writes with a unique voice not often seen in theological literature. He presents the prophets as being tough and says that his book "shows the God of the scriptures in a light that is far more in accord with how ghetto he really was."
"It was also written to show the life of a prophet and to bring about the understanding that the man of God does not live the beautiful scene of Jezebel's table but lives the rough life of the outcast," Saunders says.
"The Biblion of the Theocracy"
By Tony Saunders
Hardcover | 6 x 9in | 286 pages | ISBN 9781504943925
Softcover | 6 x 9in | 286 pages | ISBN 9781504943949
E-Book | 286 pages | ISBN 9781504943932
Available at Amazon and Barnes & Noble
About the Author
Tony Saunders is a veteran of the 1990s United States gang wars and champion of the Brooklyn, New York, Crips. He was originally accepted by the godbody in 1997 after joining several other gangs in his community. Being an experienced member of the 187 Gangsta Crips, Saunders spent his time in East New York, Flatbush and Brownsville areas of Brooklyn mainly focusing on issues relating to the street life, but he would attend godbody ciphers every now and then to build with the gods. Saunders now lives in London as a member of both the 5 Percent and the African Cooperative Union.
AuthorHouse UK Ltd., is an Author Solutions, LLC, supported self-publishing services and a leading provider of self-publishing, marketing and bookselling services dedicated to serving authors throughout the United Kingdom. AuthorHouse UK is committed to providing authors the best self-publishing experience through a wide array of products and services designed to help individual authors realise their unique creative vision. AuthorHouse UK consultants provide guidance to authors throughout the self-publishing process. To date, AuthorHouse UK has released more than 6,500 titles. For more information or to begin publishing a book today, visit authorhouse.co.uk or call 0800 1974150 or follow @AuthorHouseUK on Twitter for our latest news and updates.