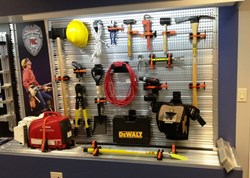 Lancaster, NY (PRWEB) August 26, 2013
Performance Advantage Company announces new colors for their positive locking brackets. Their proprietary brackets satisfy a wide range of tool mounting requirements, and provide the most versatile and flexible solution for equipment mounting. The new locking strap colors are black, orange and yellow.
The brackets are used worldwide on mobile installations such as crash trucks, naval vessels, fire apparatus', SWAT vans, wreckers and much more. They are designed for harsh conditions and produced with military-grade materials. PAC's adjustamount brackets consists of individual modules and a locking strap which can positioned to accommodate the mounting of a wide variety of tools and equipment.
All products feature a Lifetime Warranty; if any part fails under normal service, it will be replaced at no charge. They take tremendous pride in safe, efficient tool mounting. Customers receive proven dependable products that last for years in high-stress environments. Customer Satisfaction is PAC's number one priority.
Performance Advantage Company can connect groups around the world with their video conferencing system. Contact PAC today at 888-514-0083 or visit the PAC website at http://www.pactoolmounts.com for more information.
About the company:
Performance Advantage Company, established in 1992, is a privately owned company which manufactures and markets high quality tool mounting brackets. PAC's primary market is the fire industry providing specialty tool mounting solutions for fire apparatus. Other markets include the military, law enforcement, EMS, utilities and Homeland Security. PAC provides adjustable mounts, universal mounts, friction locking brackets, custom tool boards and more. A full list of their products and specifications can be found on their website. Performance Advantage Company is headquartered in Lancaster, N.Y., a suburb of Buffalo, and sells its products direct or through a worldwide network of dealers. Please visit PAC on the web for more information.