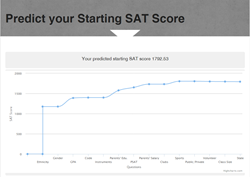 Until now there was no way to see how various demographic factors combine to affect a student's SAT score.
Irvine, CA (PRWEB) September 15, 2014
Every student preparing for college entrance exams has the same two questions: "What will my score be?" and, "How can I improve it?" Now, for the first time, any student can get a quick and accurate answer to the first question with a new, unique SAT Starting Score Predictor™ Tool.
By completing a quick and easy 15-question survey, a student will immediately see their predicted starting SAT score. This innovative, first-of-its-kind web-based tool utilizes a wealth of statistical data on U.S. student SAT scores to yield highly accurate results. Questions range from the orthodox, "What is your ethnicity?", to the unprecedented, "How many computer languages can you code in?" It also asks questions about a student's parents, extracurricular activities, volunteer work, and more, to calculate the starting SAT score.
The SAT Score Predictor Tool was developed by Powerful Prep, an elite SAT/ACT test prep academy based in Irvine, CA, that employs only tutors who are Ivy League alumni with 99.9% SAT/ACT scores. After performing an exhaustive meta-study into the factors that contribute to a student's starting score, Powerful Prep wanted to make the findings readily accessible to all students via a simple website tool. Their hope is that the tool will serve as a useful planning resource for students in the pre-college stage.
"It seems that every year a new study shows that a student's score is dependent upon a new factor—ethnicity, parents' income, student's GPA," said Matthew Larriva, Founder of Powerful Prep, "but until now there was no way to see how all those factors combine to affect a student's SAT score."
Specifically, the tool predicts a student's "starting SAT score". This is the score a student to can expect to earn if they have not completed any special test preparation courses. It is, of course, possible to improve a score well beyond this predicted starting score.
In fact, Powerful Prep specializes in increasing students' SAT and ACT test scores, through both 1:1 private tutoring and hands-on small group classes. Powerful Prep students typically see 300 point gains on the SAT and 3 point gains on the ACT, as shown in the student results data that they publish. (Powerful Prep is the only test prep company in Orange County that makes their students' point gain data public.)
Click here to try out the Powerful Prep SAT Starting Score Predictor™ Tool
Students may also wish to download Powerful Prep's white paper that helps determine which test a particular student should take - the SAT or the ACT.
About Powerful Prep
Powerful Prep is Orange County's premium SAT Prep and ACT Prep results-oriented program and has been featured on CBS and KCAL 9. All instructors are Ivy League graduates and 99.9% scorers on the SAT and/or ACT. They offer the convenience of private in-home tutoring as well as dynamic small group classes.
Powerful Prep is one of only a handful of prep companies in the country that publishes its results. They believe that test prep shouldn't be a gamble: Parents and students should know an academy's track record.