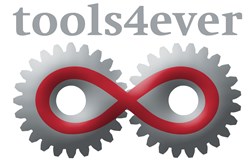 Los Angeles, CA (PRWEB) November 18, 2013
Tools4ever, the international market leader in identity and access management (IdM/IAM) solutions, today announced from Gartner Identity & Access Management Summit 2013 in Los Angeles several new product updates of its robust line of IAM solutions.
The updated products being featured at the summit include User Management Resource Administrator (UMRA), Enterprise Single Sign-On Manager (E-SSOM) and Self Service Reset Password Manager (SSRPM). Tools4ever's executive staff is on hand, in booth #400, to discuss the benefits and features of the solutions, as well as to answer questions. They also are available to discuss how their solutions are meeting the needs and addressing new trends in the IAM arena.
Included in each of the product updates is functionality for Bring Your Own Device (BYOD), cloud applications and mobile devices in conjunction with IAM. These solutions make it easy to ensure that identity, access and password management for these platforms is not only efficient, but also secure and compliant. Through its solutions, Tools4ever delivers these benefits quickly, without lengthy implementations.
"Tools4ever has a strong presence in the identity and access management arena with more than 5 million managed users world-wide at organizations varying in size from 200 to more than 300,000 user accounts," said Dean Wiech, managing director of Tools4ever-East.
"We have had the pleasure to work with many leading organizations throughout the world. In our 12 years of operation we have grown tremendously, especially in the education, healthcare, business, government and financial sectors. In addition, our solutions have constantly evolved to ensure that they meet the new trends and changes that businesses of today are encountering."
Additional information about all of Tools4ever's IAM solutions can be found at: http://www.tools4ever.com/software/.
About the Gartner Identity & Access Management Summit 2013
Gartner Identity & Access Management Summit 2013 is the premier gathering for IT and business professionals responsible for creating, implementing, managing, and improving IAM programs. The summit shows how to implement necessary improvements in security, efficiency, capabilities and compliance. Attendees walk away with new IAM solutions and a clear strategy for providing access accountability, transparency and control for IT resources. Additional information is available at: http://www.gartner.com/technology/summits/na/identity-access/.
About Tools4ever
Tools4ever is the undisputed identity and access management market leader, with more than one million user accounts managed on a daily basis. Tools4ever supplies a variety of software products and integrated consultancy services involving identity management, such as user provisioning, role-based access control (RBAC), password management, single sing on (SSO) and access management. For more information, visit http://www.tools4ever.com.
CONTACT:
Dean Wiech
Manging Director, Tools4ever-East
516-482-4414 x 305
d.wiech(at)tools4ever(dot)com