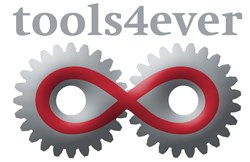 (PRWEB) September 17, 2013
Tools4ever, provider of some of the world's most widely used identity and access management solutions, announced today that Needham Bank, of Needham, Mass., has implemented Enterprise Single Sign-On Manager (E-SSOM) and Self Service Reset Password Management (SSRPM). Needham Bank is a private community bank providing high-quality services through its five locations.
The bank, known for its excellent customer service, has served its communities since 1892, and employees take great pride in offering personalized service and are deeply involved in the communities in which the bank serves.
Needham Bank implemented Tools4ever's E-SSOM and SSRPM so that its 170 employees can access their accounts quickly prior to and during each interaction with customers through a single set of credentials, and to make managing access to these accounts much more efficient.
"Employees are able to focus on the customer rather than on their computer," said James Gordon, vice president of information technology at Needham Bank. "I now view E-SSOM and SSRPM an irreplaceable part of our network infrastructure and core to how the business will operate moving forward."
Before the solutions were implemented employees were frustrated by the number of credentials they were required to remember and by the amount of time it took to reset passwords.
Customers also became frustrated as they had to wait for bank employees to sign into each application separately, which was time consuming.
Tools4ever's E-SSOM allows employees to login with a single set of credentials, and they no longer need to write down their passwords to remember them, which means improved security of bank information.
In addition, with SSRPM employees simply answer security questions, which they previously provided answers for during initial enrollment, and are able to securely reset their own passwords without having to contact the helpdesk.
"It's a privilege to work with Needham Bank as it continues to innovate and create a more efficient banking experience for its customers," said Dean Wiech, managing director of Tools4ever. "These solutions allow the bank's employees to focus on more important issues than managing passwords and spending time on helpdesk calls. They'll now be able to focus their efforts where they are needed most: With clients to deliver the most positive outcomes."
For more information about E-SSOM please visit: http://www.tools4ever.com/software/enterprise-single-sign-on-manager/.
For more information about SSRPM please visit: http://www.tools4ever.com/software/self-service-reset-password-management/.
Read the complete case study at: http://www.tools4ever.com/industries/financial/references/Needham-Bank/.
About Needham Bank
Needham Bank has grown to become a diversified $1.2 billion bank in part because of mergers with The Medfield Cooperative Bank in 1965 and with Dedham Cooperative Bank in 2007. From the earliest days, its reputation was built on personalized service and deep community involvement. Its commitment remains unchanged in stark contrast to the globalization and regionalization of the larger banks. Needham Bank believes in supporting the buy-local movement because buying local means banking local, which is in the best interest of the communities served by the organization.
About Tools4ever
Tools4ever distinguishes itself with a no-nonsense approach and a low total cost of ownership. In contrast to comparable identity and access management solutions, Tools4ever implements a complete solution in several weeks rather than months or years. Because of this approach, Tools4ever is the undisputed market leader, with more than one million user accounts managed on a daily basis. Tools4ever supplies a variety of software products and integrated consultancy services involving identity management, such as user provisioning, role-based access control (RBAC), password management, single sign-on (SSO) and access management. For more information, visit http://www.tools4ever.com.
For additional information please contact:
Tools4ever New York
Dean Wiech
Phone: 1-866-482-4414
d.wiech(at)tools4ever(dot)com
Tools4ever Seattle
Tom Mowatt
Phone: 1-888-770-4242
t.mowatt(at)tools4ever(dot)com