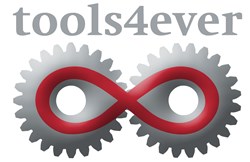 Tewkesbury, UK (PRWEB) August 19, 2013
Tools4ever, a market leader in Identity & Access Management (IdM/IAM) solutions, has introduced a new feature for its Single Sign-On product, E-SSOM. One Touch Access allows end users to log in easily and quickly, simply by holding a pass card against a card reader. They will then gain access to all permitted applications within 8 seconds. Changing workstations is now also simple, as the session is automatically locked allowing all opened applications to follow the user to another workstation. Thanks to this technology end users no longer have to enter and remember passwords.
One Touch Access is particularly suited to organisations where employees work on different computers and deal with major time constraints, such as hospitals or other healthcare organisations. Doctors who have to visit patients in various different locations require quick, easy and above all, secure access to medical patient records wherever they go. With One Touch Access they can now authenticate themselves simply by holding their badge to the card reader.
E-SSOM One Touch Access can also be used in networks that use desktop virtualisation. Using a virtualised desktop (Microsoft RDS, VMware View and Citrix XenApp/XenDesktop) allows end users to easily change workstations. Any type of pass card can be used for One Touch Access, including employee access badges already in use at the organisation.
To find out more about One Touch Access please click on the link below:
http://www.tools4ever.co.uk/software/enterprise-single-sign-on-manager/features/
About Tools4ever
Tools4ever distinguishes itself with a no-nonsense approach and a low Total Cost of Ownership. In contrast to comparable Identity & Access Management solutions, Tools4ever implements a complete solution in several weeks rather than months or years. Because of this approach, Tools4ever is the undisputed Identity & Access Management market leader, with more than one million user accounts managed on a daily basis.
Tools4ever supplies a variety of software products and integrated consultancy services involving Identity Management, such as User Provisioning, RBAC, Password Management, SSO and Access Management. For more information, please visit http://www.tools4ever.co.uk .