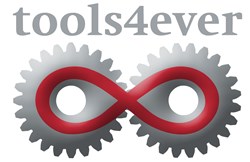 Lynbrook, NY (PRWEB) September 23, 2013
Tools4ever, the market leader in identity and access management (IdM/IAM) solutions, announced today that it is launching a reseller program in North America. The program offers IT service providers access to Tools4ever's powerful password management portfolio that includes Enterprise Single Sign-On Manager (E-SSOM), Self Service Reset Password Management (SSRPM) and User Management Resource Administrator (UMRA).
Tools4ever has forged highly successful partnerships with various resellers worldwide and now is expanding the program in North America to bring its solutions to a variety of verticals, including healthcare, education, government, financial services, nonprofit and business.
"We have been active in the U.S. market for more than 10 years, and our passwords management solutions, such as single sign-on, automated account management and password reset have amply proven their value," said Dean Wiech, managing director, Tools4ever. "We have become a market leader in the IAM space and are now actively looking for resellers that want to be a part of this success."
In addition to the launch the program, Tools4ever also announces its first North American channel partner, Kifinti, based in Toronto, Canada. Since 1983, Kifinti has focused on providing service, infrastructure and security management solutions to businesses through Canada.
UMRA is a complete user management system that simplifies the management of Active Directory and a large number of other applications. While managing user account and authorization processes in Active Directory and adjacent systems, UMRA also offers secure delegation of user account management and compliance with user monitoring and reporting.
Tools4ever's E-SSOM is an organization-wide single sign-on software solution enabling end-users to log in just once, after which access is granted automatically to all of their authorized network applications. E-SSOM makes automatic login possible.
SSRPM is a password management solution that allows end-users to reset their active directory password based on simple, predefined questions. The "Forgot My Password" button is integrated into the logon screen and supports many platforms.
Besides E-SSOM and SSRPM Tools4ever's password management portfolio includes solutions for managing password complexity (PCM) and password synchronisation (PSM).
Tools4ever's partner program provides resellers with sales and technology support so that they are always able to offer customers the best possible products and services.
For more information on the Tools4ever's reseller program or to register as a reseller, visit http://www.tools4ever.com/about-tools4ever/partners/.
About Tools4ever
Tools4ever distinguishes itself with a no-nonsense approach and a low total cost of ownership. In contrast to comparable identity and access management solutions, Tools4ever implements a complete solution in several weeks rather than months or years. Because of this approach, Tools4ever is the undisputed identity and access management market leader, with more than one million user accounts managed on a daily basis. Tools4ever supplies a variety of software products and integrated consultancy services involving identity management, such as user provisioning, role-based access control (RBAC), password management, single sign-on (SSO) and access management. For more information, visit http://www.tools4ever.com.
For additional information please contact:
Tools4ever New York
Dean Wiech
Phone: 1-866-482-4414
d.wiech(at)tools4ever(dot)com
Tools4ever Seattle
Tom Mowatt
Phone: 1-888-770-4242
t.mowatt(at)tools4ever(dot)com