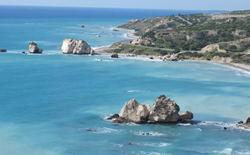 In 2013, 891000, or 37% of the island's total visitors came from the UK.
(PRWEB UK) 27 June 2014
The economic downturn which dogged Europe for the early part of the millennium had a particularly detrimental effect upon Cyprus's long-established tourism industry.
The Mediterranean's third-largest island - fabled birthplace of Aphrodite, the Greek goddess of love, has been popular with holidaymakers for decades. Combining beautiful mountain scenery, abundant golden sandy beaches, a climate that is hot and sunny in summer but favourable all year round and holiday resorts such as Paphos, Larnaca, Protaras and Limassol which offer something for everyone to enjoy, the appeal of Cyprus is undeniable.
However, as the recession reached its height in 2009 and holidaymakers across Europe tightened their belts, tourism – formerly the backbone of Cyprus's economy – suffered and was overtaken by the island's construction industry, funded by pre-crisis investment. The good news for Cyprus and holidaymakers is that you can't keep a good destination down. Tourism remains a key factor in the island's income and is showing signs of a strong recovery. Cyprus is one of Europe's most-loved destinations for British holidaymakers, and statistics released by Cyprus's Ministry of Finance reveal that in 2013, 891,000, or 37% of the island's total visitors came from the UK. Russia followed close behind, contributing 25% of 2013's visitors whilst other European countries accounted for the rest.
In the case of British holidaymakers this resurgence in Cyprus's fortunes is attributable not only to the island's fabulous resorts, beaches, championship golf courses and other attractions but also to the easy availability of low-cost flights and the abundance of superb holiday properties, from private villas to beachfront apartments to suit every taste and budget. Sterling's current strength against the Euro means that 2014's holidaymakers can find genuine bargain accommodation in Cyprus with no compromise on comfort or location.
As a consequence of the boom in the construction and ownership of holiday rental properties in Cyprus – largely by British owners – the increased availability in quality holiday accommodation at competitive rates has seen Alpha Holiday Lettings, a leading UK holiday lettings specialist, receiving increasing numbers of enquiries since 2013.
With Cyprus once more set to become one of the hottest holiday destinations in Europe, its ranking at No. 2 in Alpha Holiday Lettings' list is clearly justified.
About Alpha Holiday Lettings
Alpha Holiday Lettings has rapidly established itself as one of the top holiday rentals portal sites in Europe and offers self-catering apartments, cottages and holiday villas in Spain, England, France, Portugal, Italy, Cyprus, Turkey and other destinations around the world. The majority of the properties listed on Alpha Holiday Lettings are privately owned and are booked directly with holiday home owners. For more information, visit http://www.alphaholidaylettings.com.