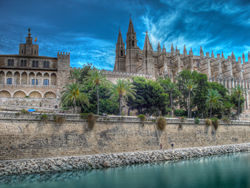 Palma's International Airport is accessed by low-cost airlines from many of the UK's regional airports with flight durations typically less than three hours and it becomes clear why Majorca is undoubtedly a top 10 destination.
(PRWEB UK) 27 February 2014
It's little surprise that the beautiful island of Majorca (or, in Spanish, Mallorca) has attained "top ten" status in the list of 2014's most popular holiday destinations as predicted by the UK's foremost holiday property rentals website AlphaHolidayLettings.com.
The largest island of the Balearic Islands situated off the east coast of mainland Spain, Majorca has been a favourite destination for European and British holidaymakers for more than sixty years. Benefiting from the hot, sunny summers offered by a Mediterranean climate and diverse landscapes ranging from the mountains of the island's northwest through an interior whose open plains are punctuated with pretty vineyards, pine forests and groves of almond and olive trees, to the limestone cliffs and gorgeous golden beaches of the western coast, Majorca is stunning.
Natural beauty aside, Majorca offers something enjoyable for holidaymakers of every age and interest. Palma, the island's ancient yet modern capital city is fantastic to explore, its cobbled streets revealing a rich slice of Spanish culture and history. In Palma you'll find the best Spanish restaurants and tapas bars, plentiful family entertainments, a lively night scene and, naturally, great beaches lapped by the warm turquoise waters of the Med.
The ever-popular resort of Magaluf, meanwhile, is the place in which to party the night away. Although perfectly fun and family-friendly, this lively town is renowned for its nightlife and is the perfect destination for young couples, stag and hen parties, clubbers and revellers who enjoy dancing until dawn before heading onto a beautiful beach to recover.
By contrast, resorts such as Puerto Pollensa and Cala d'Or offer a gentler and more relaxing Majorca holiday experience. Set in a horseshoe-shaped bay sheltered by mountains near the island's northernmost point, the former fishing village of Puerto Pollensa is both charming and tranquil yet offers all of the attractions and entertainments required of a modern holiday resort. Cala d'Or, on the quieter and picturesque east coast offers a holiday for all ages and is a great destination for sailing, diving and exploring the beautiful Mondrago National Park, a conservation area rich in wildlife, birds, plants and flowers which also boasts some of the islands finest and least crowded beaches.
The continuing popularity of these superb resorts and many others ensure that there is a wealth of holiday homes, apartments and villas in Majorca for rent to suit every taste and budget, and that demand for outstanding holiday properties is always high. Add in the fact that Palma's International Airport is accessed by low-cost airlines from many of the UK's regional airports with flight durations typically less than three hours and it becomes clear why Majorca is undoubtedly set to be one of 2014's top ten sunshine holiday destinations.
Owners and property agents with holiday homes to let in Majorca – or anywhere else – can currently take advantage of six months' free advertising with the UK's leading specialist holiday property rentals website, AlphaHolidayLettings.com. For a limited time only, advertisers signing up for a twelve month advertisement on the site will receive an additional six months advertising entirely free of charge. With demand for holiday rental properties likely to continue to soar in 2014 there's never been a better time to promote a holiday villa or apartment, but haste is advised as AlphaHolidayLettings.com's generous free advertising offer will end soon.
About Alpha Holiday Lettings
Alpha Holiday Lettings has rapidly established itself as one of the top holiday rentals portal sites in Europe and offers self-catering apartments, cottages and holiday villas in Spain, England, France, Portugal, Italy, Cyprus, Turkey and other destinations around the world. The majority of the properties listed on Alpha Holiday Lettings are privately owned and are booked directly with holiday home owners. For more information, visit http://www.alphaholidaylettings.com.