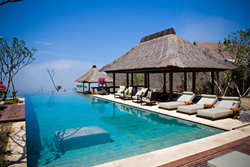 San Francisco, CA (PRWEB) April 29, 2014
Here is SpaHub's list of the top 10 romantic spa vacations for 2014:
1) Mandarin Oriental, Prague, Czech Republic
Frequently referred to by visitors as Europe's most beautiful city, Prague is home to the Mandarin Oriental hotel and spa found within the walls of a former 14th century monastery. The old world ambiance combined with the contemporary treatment techniques make the spa a modern day spiritual haven.
2) Occitania Spa at La Pleta Hotel, Baqueira, Spain
Occitania Spa serves as an oasis in the middle of the Pyrenees mountain range, with rustic, castle-like buildings that look over the landscape of white snowy peaks. Inside, the hotel and spa facilities exude warmth, elegance, and sophistication with ingenious synergy between the architectural design and treatment options to create the perfect space to find serenity.
3) Spa Montage, California, USA
The Montague in Laguna Beach is an Oceanside getaway that offers numerous activities for couples both in and out of the resort's walls. Couples have the option to be pampered at the spa with its assortment of phenomenal treatments, or they can choose to embark on a romantic journey set on the beautiful beach lining the hotel.
4) Las Ventanas al Paraiso Resort, Los Cabos, Mexico
Set in one of Mexico's most popular tourist locations, this destination combines crystal blue water, white sandy beaches, and warm temperatures, providing the perfect setting for a luxurious spa and resort. The indoor-outdoor spa's treatment menu incorporates the ancient Baja healers' four elements (earth, air, fire, and wind), bestowing their clients with the ultimate experience for restoration and rejuvenation.
5) Brenners Park Hotel and Spa, Baden-Baden, Germany
Coined as the "Wellness Hotel" in Germany, this expansive hotel and spa complex presents itself as a beautiful, urban oasis amidst an enchanting parkland. The Baden-Baden Spa at Brenners includes a menu of relaxing beauty treatments in its newly renovated spa area, a spa suite equivalent to a private sanctuary that allows customers to free their mind while being pampered, and a Physio spa that has a team of expert physiotherapists, osteopaths, and medicinal massage therapists who offer medicinal and underwater massage.
6) The Fairmont Banff Springs, Banff, Canada
The Willow Stream Spa at The Fairmont Banff Springs was built to be reminiscent of the region's historical hot springs, with pulsating waterfalls and a mineral pool for rejuvenating tired muscles and lifting the spirits. Moreover, the Alberta destination is a premier ski venue during the winter that turns into a forested wonderland come summertime.
7) Mayflower Inn and Spa, Connecticut, USA
The Spa House lies at the heart of Mayflower's estate, which revolves around the sun-filled Garden Room that overlooks the Blue Haven Pond amidst a backdrop of fertile forestry. The spa offers the perfect mix of tranquility and excitement, with an extensive menu of indoor and outdoor activities and adventures as well as a treatment area that includes a whirlpool, Thermal Sanctuary, and steam rooms.
8) Regent Palms, Turks and Caicos Islands
Experience peace and serenity in the luxurious oasis of the Regent Palms Spa, which was thoughtfully-designed to maximize the effects of a range of holistic therapies drawn from around the world to harmonize the mind, body, and spirit. The resort is located just steps away from Grace Bay beach's flawless white sand and sparkling sapphire water, ranking it as one of the most beautiful beaches in the world.
9) Blue Palace Resort and Spa, Elounda, Greece
This award-winning location provides the perfect combination of lavish island accommodations, authentic cuisine, and soothing spa treatments. The Elouda Spa and Thalassotherapy Center was named the best spa in Greece for its signature treatments performed amid breathtaking views of the natural beauty surrounding the resort.
10) Mauna Lani Bay Hotel, Kohala Coast Island, Hawaii
Mauna Lani Spa resembles a Hawaiian village complete with thatched huts, natural lava saunas, a meditation hale, and a Watsu pool. One of the highlights of this resort includes the open air lava sauna in which customers apply a black volcanic clay mixture to their skin over warm lli lli stones, causing the clay to dry up and relieve stress. A private outdoor rain shower washes off the dried clay afterwards, followed by an application of Mauna Lani Spa's signature body oil.
With SpaHub.com's expansive online spa directory covering the U.S. and Canada, visitors can find the right spa resort or treatment to meet their needs.
About SpaHub:
SpaHub's mission is to create the largest Day, Medical and Getaway Spa Directory in the world. They strive to make the site a comprehensive place to learn about the different services spas provide. The goal is to provide every visitor with an effective tool for quickly locating and exploring a spa's amenities before taking a step out the door. For more information, please visit http://www.SpaHub.com.