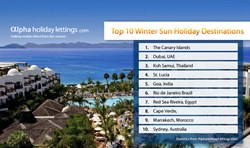 It isn't necessary to travel far or spend a fortune to enjoy a sunshine-filled festive season or warm winter break.
(PRWEB UK) 13 December 2013
When the gloom of winter sets in, temperatures drop and the days grow shorter the preferable choice between donning another pullover and turning up the central heating or jetting off to the warmth of a sunkissed resort is obvious.
Increasingly, holidaymakers are beating the winter chill by heading overseas and, as Alpha Holiday Lettings' guide to the Top 10 Winter Sun Destinations demonstrates, it isn't necessary to travel far or spend a fortune to enjoy a sunshine-filled festive season or warm winter break.
1. The Canary Islands
Guaranteed warmth and a short flight-time from the UK ensure the popularity of the volcanic islands of Gran Canaria, Tenerife and Lanzarote in winter, and each boasts superb beaches, outstanding natural beauty and plenty of fun activities.
2. Dubai, United Arab Emirates
This glamorous Middle Eastern city-state offers pristine golden sands, sublime snorkelling, the world's largest luxury shopping malls and the fabulous Palm Jumeirah where villas and apartment complexes feature private beaches.
3. Koh Samui, Thailand
Dreams of a tropical paradise become reality on sunny Koh Samui. Thailand is 'the land of smiles' and palm-fringed white sands, ultra-friendly locals, a rich culture, plentiful beach parties and great food are sure to delight everyone.
4. St. Lucia
Grey winter days are quickly forgotten on the romantic Caribbean island of St Lucia where holidaymakers can swim with turtles, sunbathe on talcum-white beaches or marvel at St Lucia's spectacular UNESCO-listed Piton volcanos.
5. Goa, India
Ever-popular and inexpensive, Goa combines a Portuguese colonial heritage, traditional Indian culture, welcoming locals and seemingly-endless unspoilt beaches to create a winter sun holiday that is both exotic and thoroughly relaxing.
6. Rio de Janeiro, Brazil
Brazil's sunshine city, famous for its stunning Copacabana and Ipanema beaches, is enjoying a makeover in preparation for the forthcoming World Cup and Olympics. The addition of new attractions to Rio's enviable host of existing highlights ensures that the city remains an outstanding winter sun hotspot.
7. Red Sea Riviera, Egypt
Ancient history, the romance of the desert, world-class snorkelling and diving and popular resorts including Sharm el Sheikh and Hurghada meet on Egypt's sun-kissed eastern coast, where current winter break bargains offer a compelling escape from the cold.
8. Cape Verde
Nicknamed the 'African Caribbean', the paradisiacal Atlantic islands of Cape Verde, offer fabulous beaches and picturesque towns, with a colourful combination of African, Portuguese and Brazilian cultures informing everything from local cuisine to clothing.
9. Marrakech, Morocco
Backdropped by the distant and majestic Atlas Mountains, Morocco's capital city offers a thoroughly exotic and exciting winter break from its ancient and spice-scented souk to its array of exquisite palaces, mosques and Kasbahs.
10. Sydney, Australia
Worth every minute of the long flight, Sydney offers a winter sun break crammed with cultural highlights, famous beaches, countless fun activities and experiences and one of the world's most unforgettable New Year's Eve celebrations.
About Alpha Holiday Lettings:
One of the top portal sites in Europe, Alpha Holiday Lettings has grown rapidly since their introduction to the market in 2010. Now a global force, with over 7000 listings in a host of global destinations offering self-catering apartments, cottages and holiday villas in Spain, England, France, Portugal, Italy, Cyprus, Turkey and other destinations around the world. They are firmly established as a leading portal in online travel. For more information, visit http://www.alphaholidaylettings.com.