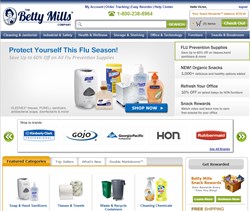 In medical supplies, 50% of the top 10 sellers were from Medline Industries
San Mateo, CA (PRWEB) October 25, 2013
The Betty Mills Company ® one of the nation's leading online B2B shopping destinations, and famous for its Snack Rewards™ loyalty program, today released its Janitorial Supplies, Office Supplies, Office Snacks and Medical Supplies Top 10 ranking lists for the third quarter of 2013. The rankings are determined by those items which were purchased by the most unique customers during the period.
Betty Mills CEO, Victor Hanna said, "Q3 had many of the big brands showing well, including Brawny, Duracell, Kleenex, Purell, Folgers and Frito-Lay. In medical supplies, 50% of the top 10 sellers were from Medline Industries, a leading manufacturer in the category."
Betty Mills Top 10 Janitorial Supplies List for Q3 2013
1. Angel Soft ps® Premium Bath Tissue
2. SofPull® Regular-Capacity Center-Pull Hand Towels
3. Brawny Industrial® Medium Duty HEF Disposable Shop Towels
4. SofPull® High-Capacity Center-Pull Hand Towels
5. Libman Dish Sponge & Soap Dispenser Refills
6. SofPull® Jr. Capacity Center-Pull Hand Towels
7. KLEENEX® COTTONELLE® Bathroom Tissue
8. Claire Gleme Glass Cleaner
9. Preference® Jumbo Perforated Paper Towel Rolls
10. PURELL® Advanced Instant Hand Sanitizer
Betty Mills Top 10 Office Supplies List for Q3 2013
1. Duracell Coppertop® Alkaline Batteries, AA
2. Universal Standard Chisel Point 210 Strip Count Staples
3. KIMTECH Touchscreen Cleaning Wipes
4. Luxor Reversible Magnetic Whiteboard
5. Duracell Procell® AAA Batteries
6. Universal Copy Paper Convenience Carton
7. Universal Invisible Tape
8. 3M Post-It® Super Sticky Notes
9. Riegle Press National School Calendar
10. Swingline Fusion EZUse Premium Laminating Pouches
Betty Mills Top 10 Office Snacks List for Q3 2013
1. Folgers® Classic Roast® Coffee
2. Twizzlers Strawberry Flavor Licorice
3. Keebler Cheez-It Crackers, 1.5oz
4. Famous Amos Cookies, Chocolate Chip
5. Frito-Lay Grandma's Cookies Variety Pack
6. Emerald 100 Calorie Pack Dry Roasted Almonds
7. Emerald 100 Calorie Pack Cocoa Roast Almonds
8. Biscoff Gourmet Cookies
9. Land O Lakes Mini Moo's Creamer
10. Office Snax All Tyme Favorite Assorted Candies and Gu
Betty Mills Top 10 Medical Supplies List for Q3 2013
1. Kendall Container Sharps Red 2 Gal
2. Medline Avant Gauze Sterile Drain Spong
3. Medline Non-Sterile Tongue Depressors
4. Medline Cream, Skin Repair, Remedy, 32 Oz with Pump
5. Graham-Field Safety Pin Size 3 Nickel Plated Steel
6. ComfortAire PM Extended Wear Briefs, LG
7. Medline Underpad, Dry Pad, Ultrasorbs-AP
8. StayDry Performance Plus Premoistened Disposable Washcloth
9. Resource Thickened Water Nectar Consistency
10. Medline Tongue Blade, Non-Sterile
About Betty Mills
The Betty Mills Company® is a leading B2B e-commerce company and one of America's leading suppliers of cleaning, facility, MRO, break room, office snacks and health and wellness products. Offering free shipping on over 100,000 brand-leading products shipped right to your door from over 55 U.S. warehouse locations.
With Betty Mills everyday low prices, Snack Rewards™ Customer Loyalty Program and Double Markdowns® Specials, Betty Mills offers a comfortable and easy online shopping experience for everyone who likes to buy smart and save big! Betty Mills Company's headquarter is located in San Mateo, CA. For more information, please visit BettyMills.com.