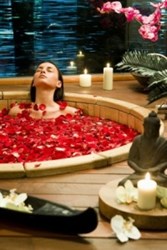 International traveling can undoubtedly be tiring. But we wanted to give our readers some inspiration to find something calming to look for on their worldly trips!
San Francisco, CA (PRWEB) November 19, 2013
Spahub.com, the online leading spa directory, has released their latest blog post on the top 10 most exotic spas from around the world. For those that love exploring and walking international cities, Spahub.com has now provided something new to add to foreign itineraries: taking some time to visit these 10 incredible international spas:
10. Terme de Saturina Spa - Italy
The Terme de Saturnia Spa offers some of the most exotic facials you can find, using ingredients such as diamonds, gold, and even ice crystals from the Antarctic. Its location is the best part: right beside an ancient thermal spring that's filled with beautiful waterfalls.
9. Sha Wellness Spa - Spain
This spa offers treatments aimed to balance inner energy and provide overall well-being.
8. Clinique La Prairie - Switzerland
Offering quite an exotic experience for those who are willing to give the spa treatment a try, the Clinique La Prairie aims to please.
7. Como Shambhala Begawan Giri - Indonesia
This spa provides guests with the most exotic spa experience anyone could possibly imagine. Chiropractic care, doctors who help heal chakras, this spa isn't like most others.
6. La Quinta - California, USA
Located in the desert spring on Eisenhower Drive, this spa offers estheticians using sacred stone spa treatments that bring healing to the body.
5. Carmel Forest Spa - Israel
This exotic spa focuses on the aches and pains of their guests' bodies. Using methods of Reiki, physiotherapy, shiatsu, and reflexology, these spa technicians treat guests to a unique healing experience.
4. Carnac Thalasso Spa Resort - France
This exotic French spa utilizes energy and seaweed to improve health. They offer seaweed wraps, floats in seawater, and a deeply relaxing experience from the deep sea view from their sybaritic relaxation room.
3. Blue Lagoon - Iceland
This exotic location offers both indoor and outdoor services. Located on top of the hot springs in Grindavik, Iceland, the Blue Lagoon offers geothermal spring water baths, which are proven to have great benefits on both the skin and the psyche.
2. Chiva Som - Thailand
This spa uses both herbal medicine and kinesthetic assessment to identify imbalances in the body. They also offer facial acupuncture and bio-identical treatments.
1. Lifehouse Spa - United Kingdom
Located in Thorpe-Ie-Soken, Essex, Lifehouse is known as a British wellness event. Among their eclectic options, they offer kinesiology, spiritual and psychic healing, as well as your regular facials and other spa treatments.
"International traveling can undoubtedly be tiring," says Mark Verkhovski of Spahub.com. "But we wanted to give our readers some inspiration to find something calming to look for on their worldly trips!"
Spahub.com's team has provided a more in depth analysis of the exotic spas, their top recommendations to visit one, and more on their latest blog post here: http://www.spahub.com/top-10-exotic-spas.html.
With Spahub.com's expansive online spa directory and more informational resources on these top 10 spas (and more), visitors can find what they need to locate a spa in their local areas anywhere in the U.S. and Canada.
About Spahub
Spahub's mission is to create the largest Day, Medical and Getaway Spa Directory in the world. They strive to make the site a comprehensive place to learn about the different services spas provide. The goal is to provide every visitor an effective tool to quickly locate and explore a spa's amenities before taking one step out the door. For more information, please visit http://www.spahub.com.