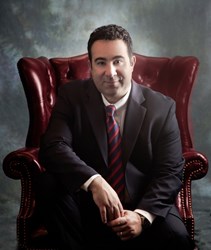 My approach is simple: Always be prepared and always be available to my clients.
Fort Lee, New Jersey (PRWEB) January 23, 2014
Christopher DiGirolamo is a partner at the leading New Jersey personal injury law firm of Maggiano, DiGirolamo & Lizzi. For his record of relentless advocacy for the rights of the injured, Attorney DiGirolamo has been honored as a Top 100 New Jersey Litigator by the American Society of Legal Advocates for the second year in a row.
Christopher DiGirolamo is dedicated to the protection of the rights and benefits that every injured victim is entitled to and has built a strong reputation based on success in the courtroom and achieving the results that his clients deserve. He served as co-counsel in the largest personal injury recovery ($101 Million) in a construction accident in United States history.
The ASLA's selection process is rigorous. Each candidate is reviewed manually by a team of attorneys. They review information discovered through publicly available filings, client assessment and even a review of the firm's websites. Assessments are also made based on demonstrated legal accomplishments, leadership in bar associations, activities within the community, and educational achievement.
ASLA members are exclusively lawyers who have been identified by their peers to be the most skilled in practice. This elite body only recognizes a handful of attorneys in each state, less than 1.5% of all lawyers licensed to practice law.
About Maggiano, DiGirolamo & Lizzi:
Maggiano, DiGirolamo & Lizzi is a New Jersey based personal injury law firm handling serious injury and death cases throughout New Jersey and New York City. They have successfully resolved hundreds of cases involving construction accidents, car and trucking accidents, medical malpractice, and a myriad of other complex issues.