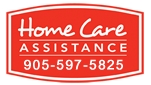 At Home Care Assistance, we really cover all areas and yet always find places to improve every year
Toronto, Canada (PRWEB) January 19, 2015
Home Care Assistance – Toronto/York Region (HomeCareAssistance-Toronto.com), the leading provider of non-medical, in-home senior care in the Greater Toronto Area, is announcing the top 10 achievements of the past year of its parent company, Home Care Assistance.
Every year, Home Care Assistance reflects on its achievements and how it has furthered its goals of helping clients and its own caregivers, and the impact on the communities it serves.
"We know exactly how fortunate we are to be part of such an amazing company," says Lester Fix, vice president of Home Care Assistance – Toronto/York Region. "From the support given to all staff to the educational training and material to the unyielding standards for putting the needs of seniors first, it truly is an incomparable company."
According to Fix, the list of noted achievements of 2014 for Home Care Assistance includes opening 23 new locations across North America, surpassing over 100 locations overall; helping over 20,000 families; adding over 1,000 new positions to now employ over 5,000 employees; and launching community-centric campaigns like Honour Your Living Legend and Senior Wish.
"This is a growing company," he explains. "And as the company continues to grow and help more seniors achieve their goals of independence, the same principles have remained steady, which is part of what has made this a unique experience."
Fix notes that more of Home Care Assistance's accomplishments from the past year include adding The Brain Boost to its award-winning books series, expanding on its webinar series, the continuation of its astonishingly high 97% client approval rate, the utilization of its healthy longevity web site by continuing to bring in experts that have appeared on Oprah and Good Morning America, and adding 95 new courses to the Home Care Assistance University.
"Our Toronto/York Region location is just one of the many locations doing everything they can to provide home care, from assisting in mental health care for elders with our Cognitive Therapeutics Method to just being present for companionship," Fix concludes. "At Home Care Assistance, we really cover all areas and yet always find places to improve every year."
Home Care Assistance – Toronto/York Region is pleased to welcome all elderly or families with seniors whom they feel may need assistance. Visit the web site at http://www.HomeCareAssistance-Toronto.com for in-depth information on how Home Care Assistance – Toronto/York Region can help.