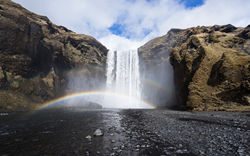 San Francisco, CA (PRWEB) September 20, 2016
Now that fall has officially arrived, attention has quickly turned from beach getaways and barbecues to holiday travel planning and hot destinations for the New Year.
The team at Stride Travel, the largest search and reviews site for tours & adventure experiences, has provided some insights into the top trending adventure tour destinations for 2017.
According to Stride, the most popular destinations include some classic countries, such as Peru and Thailand, as well as some up and coming spots like Cuba and Romania. Overall, interest remains high in Central/South America, despite concerns around the Zika virus, as well as Southeast Asia and parts of southern Europe.
Top 7 Adventure Tour Destinations for 2017
1. Cuba
There is no place as hot as Cuba right now. Americans are finally discovering what Europeans and Canadians have known for years - that Cuba is blessed with amazing architecture, friendly locals, and beautiful, empty national parks, all within an hour flight from Miami. Venture out to one of the many protected open spaces in Cuba, like Topes de Collantes National Park or the Zapata Peninsula, a UNESCO Biosphere Reserve featuring thousands of unique bird species. While independent travel to Cuba is now allowed (with some restrictions), a tour is recommended as Cuba's tourism infrastructure is still developing.
2. Romania
Romania might be famous for being home to Dracula, but there's nothing scary about this gem of a country, located in southeastern Europe. After exploring the streets of Brasov, a charming medieval town in the heart of Transylvania, head to the Carpathian mountains for a dose of outdoor adventure sports, including hiking and rafting. Planning to visit during winter? Romania boasts dozens of ski resorts with reliable snow.
3. Belize
Belize has been a "go to" destination for years among American retirees looking to settle down in a friendly and warm country close to home. But don't wait for retirement to take advantage of Belize's world-class snorkeling and scuba diving. A guided tour will ensure access to the top snorkeling and diving spots like the Lighthouse Reef atoll, home to the famous Blue Hole. A tour guide will also provide local insights and historical context when visiting places like the Mayan ruins at Xunantunich and Caracol.
4. Machu Picchu, Peru
There are few moments as spectacular as walking through Machu Picchu's Sun Gate at sunrise. The Inca Trail is the classic trekking route, which requires a guide and is best arranged months ahead of time, as permits sell out fast. Other good options exist like the Salkantay route, which snakes through the Andes and is less crowded than the Inca Trail. A tour operator can also help arrange visits to local indigenous communities scattered throughout the Sacred Valley and is a must-see on any visit to Peru.
5. Iceland
Iceland has recently emerged as one of the most popular adventure tour destinations in the world, with a prime location just a short hop across the Atlantic from the US East Coast and a few hours flight from Western Europe. Iceland is a nature lover's paradise - join a tour to see the major sights, like the Skogafoss waterfall, Snæfellsnes National Park, and yes, the Blue Lagoon. Winter travel is also very popular, with the Northern Lights putting on a magnificent spectacle.
6. Thailand
Thailand really has something for everyone - blissful beaches in the south, bustling Bangkok, and Buddhist temples everywhere. Ideally, two or three weeks are needed to see, and taste, it all! Aside from the busy capital of Bangkok, Thailand offers escapes to nature in the mountains around Chiang Mai, where hiking and mountain biking are popular activities. Local secret: schedule a visit to tour Friends of the Asian Elephant in Lampang, to see first-hand the amazing work they are doing to rehabilitate injured elephants.
7. Greece
From incredible ancient sites like The Acropolis and Epidaurus to the stunning blue waters off Santorini, an adventure tour to Greece includes all of the classics. There's no place like Greece for sailing - head out to sea and enjoy a view of the famous Greek islands from the water. Greece is also a relatively inexpensive destination compared to other European countries.
Find and compare detailed tour itineraries from over 400 travel providers, including trusted traveler reviews, for these destinations and hundreds more on StrideTravel.com.
Note: Top destinations derived from search and page view data on Stride Travel.
About Stride Travel
Stride enables travelers of all stripes to authentically explore the world at their pace. It is the first meta search site for all professionally planned, experiential travel - tours, adventure trip packages, small ship and river cruises, and self-guided active vacations. Stride makes it easy to find and compare the most comprehensive variety of trips to every continent from over 400 leading and local travel companies. With trusted user reviews on thousands of itineraries and companies, travelers can pick their perfect trip with confidence. Stride is based in San Francisco, CA with staff and Destination Experts around the globe.
Stride Travel | Find Trips That Move You