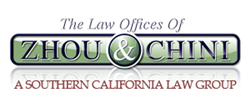 Speak to Orange County's top bankruptcy attorney for free, call 888-901-3440
Orange County, CA (PRWEB) January 14, 2014
Getting the right California bankruptcy information is imperative if someone is considering filing for bankruptcy. Zhou & Chini are the top Orange County bankruptcy attorneys that assist their clients in understanding the complex bankruptcy laws. To further assist them in helping the public better understand what happens in a Chapter 7 bankruptcy, the attorneys have just completed short videos explaining the process. When filing for Chapter 7 bankruptcy in Orange County it is extremely important for the person filing to cooperate with the trustee, and to provide all financial records or documents that the trustee requests. The Bankruptcy Code requires the trustee to ask the debtor questions at the meeting of creditors to ensure that the debtor is aware of the potential consequences of seeking a discharge in bankruptcy such as the effect on credit history, the ability to file a petition under a different chapter, the effect of receiving a discharge, and the effect of reaffirming a debt. Some trustees provide written information on these topics at or before the meeting to ensure that the debtor is aware of this information. In order to preserve their independent judgment, bankruptcy judges are prohibited from attending the meeting of creditors. More information can be found on, http://www.uscourts.gov/FederalCourts/Bankruptcy/BankruptcyBasics/Chapter7.aspx
The bankruptcy attorneys work with internet marketing experts to help in promoting the law firm's message about the importance of consulting with a knowledgeable lawyer. The law office continues its internet presence by offering zero cost bankruptcy information on bankruptcy firm's blog and social media pages. By providing this information online, along with no cost consultations, the law firm hopes to attract more Orange County residents looking for financial relief. To discover more about the different options available or to learn more about all the California bankruptcy information contact the firm directly.
The law office of Zhou and Chini help individuals experiencing a financial hardship and need the assistance of a bankruptcy attorney or just have questions about filing bankruptcy. At The Law Offices of Zhou & Chini individuals can speak directly to a bankruptcy lawyer to help you decide if filing bankruptcy is the best option, and which Chapter you qualify for. The bankruptcy attorneys can answer all the questions about bankruptcy, and help filing parties eliminate credit card debt, avoid foreclosure, stop wage garnishments and vehicle repossessions. The bankruptcy attorneys will explain the process to file for bankruptcy, bankruptcy alternatives and life after bankruptcy with an initial no cost consultation.
The attorney's understand filing bankruptcy is a major decision, the decision to file (or not to file) bankruptcy, and whether or not to use a bankruptcy attorney to file a bankruptcy petition. The Orange County bankruptcy lawyers are there to help and give you legal advice so individuals can make a well informed decision. Once someone considers filing bankruptcy a bankruptcy attorney will run a means test to determine if that person qualifies for Chapter 7 bankruptcy, Chapter 13 bankruptcy or Chapter 11 bankruptcy. In 2005 bankruptcy laws were rewritten and many things changed; now a consumer needs to first determine if they qualify to file for bankruptcy under Chapter 7 of the bankruptcy code. Chapter 7 is the most sought after chapter of the bankruptcy code because it will completely eliminate unsecured debt and offer consumers and businesses a fresh start. After making the tough and well informed decision to file bankruptcy that individual will need to know what debts can be eliminated and what property can kept. To discover more about California bankruptcy exemptions, contact the lawyers directly at 888-901-3440.
About the Firm: The Law Office of Zhou & Chini servicing the cities and counties of California. He is a graduate of UCLA and has been practicing law since 1999. Mr. Zhou has a wealth of experience in bankruptcy, civil litigation, family law, criminal law and unlawful detainer. Zhou and Chini Law Offices provide bankruptcy assistance to Orange County, Los Angeles, Santa Ana and San Diego residents. For more information about speaking with the top Immigration attorney call the main office number.
Contact: Ron Chini
Website: info(at)bankruptcyattorneyorangecounty(dot)org
Phone: 888-901-3440