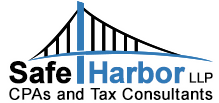 A prosperous retirement should be the goal of every individual.
San Francisco, CA (PRWEB) January 24, 2014
Safe Harbor LLP (http://www.safeharborcpa.com/), one of the San Francisco Bay Area's top CPA firms, is proud to announce the public release of its February tax bulletin. The firm specializes in helping high net worth individuals as well as businesses with tax, accounting, and financial planning issues. The latest edition of the firm's tax bulletin helps San Francisco high income individuals and businesses coordinate retirement and tax planning via Simplified Employee Pension plans, IRA accounts, and social security benefit strategies.
"A prosperous retirement should be the goal of every individual," commented Chun Wong, CPA, managing partner at Safe Harbor LLP. "Many San Francisco Bay Area residents and businesses are coming to us to seek tax planning advice in light of the complexities of retirement and even estate planning."
For more information, go to: http://www.safeharborcpa.com/?p=3216.
Highlights of February's San Francisco Tax Bulletin
The February edition of Safe Harbor LLP's tax bulletin contains information on the following topics:
SEP Plans Go Separate Ways - Simplified employee pension (SEP) plans can be one of the most advantageous retirement plans for small businesses.
Mixing IRA Distributions with Social Security - retirement planning options and Social Security, explained.
The "Other" April 15th deadlines - deadlines for filings in April besides the most obvious, personal deadline.
IRS Circular 230 Notice
The Internal Revenue Service requires Safe Harbor LLP to inform the reader that any tax advice contained in this correspondence cannot be used for the purpose of avoiding penalties under the Internal Revenue Code or for promoting, marketing or recommending to another party any transaction or matter addressed.
About Safe Harbor LLP – a Professional CPA Firm in San Francisco
Safe Harbor LLP is a CPA firm that specializes in accounting and tax services for individuals and businesses throughout the San Francisco Bay Area and greater California. Safe Harbor CPAs helps both individuals and businesses with tax preparation, IRS audit defense, and audited financial statements. The firm prides itself on friendly yet professional service and utilizes state-of-the-art Internet technology to provide quality customer service.
Safe Harbor CPA
http://www.safeharborcpa.com
Tel. 415.742.4249