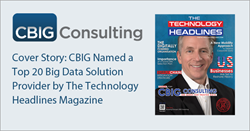 Achieve meaningful insights and ROI gains more quickly...
Chicago, IL (PRWEB) April 03, 2017
Already recognized as a leading Big Data, BI, and Data Analytics solution provider by numerous industry analysts and professional peers for several years running, global firm CBIG Consulting and its President Todd Nash recently enjoyed some star treatment from The Technology Headlines publication in its February 2017 issue. The magazine's cover story, "The Quest for Trusted Data," discusses how CBIG, with Nash at the helm, has successfully developed and continues to sustain its creative environment for accomplishing far-reaching innovations in data-driven enterprise solutions.
The CBIG feature story provides an overview of the firm's deliberate expansion into smaller, more strategic programs to help clients break out of the confines of unwieldy, traditional business intelligence models. Expanding on the article Nash added, "These efforts, propelled by evolving client demand, are designed to achieve meaningful insights and ROI gains more quickly while allowing for greater autonomy among individual business units."
Trending services highlighted in the article include CBIG's proprietary Lean™ technology that streamlines complex ETL, Data Integration and Reporting functions, Marketing and Competitive Intelligence solutions to improve branding, competitiveness and market share, Proof-of-Value business cases, and Data Monetization initiatives that leverage CBIG Cloud™ resources.
About CBIG Consulting
CBIG Consulting is an international team of experts in Business Intelligence, Big Data Analytics, Data Warehousing, and Cloud-based Analytics platforms. Named a top BI and Big Data consulting firm by independent research organizations and publications, CBIG's management consultants, business analysts, data scientists, architects and engineers are seasoned professionals dedicated to the analytics space. CBIG works with global enterprises, mid-size businesses, and non-profit organizations in solving mission-critical reporting and analytical needs. CBIG is headquartered in the Chicago area and has additional offices in San Francisco, Boston, Denver, Austin, Raleigh, Irvine and Seattle in the U.S.; Sydney, Melbourne, Auckland and Singapore serving the Asia-Pacific region; and London serving the EMEA region. For more information, please visit http://www.cbigconsulting.com