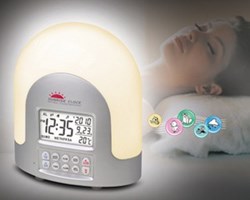 Top Christmas Gifts For Her 2013 Revealed By Paramount Zone Ltd
(PRWEB UK) 30 October 2013
This year why not check out some of the top christmas gifts for her from Paramount Zone Ltd.
The enticing economically priced Yuletide selection includes the delightful "Advanced Sunrise Alarm Clock". The clock is available with 10 "nature sounds" allowing her to be woken from her slumbers to the likes of the sound of birds or waterfalls and the room bathed in artificial dawn sunlight – ideal for lifting the spirit on those dark winter mornings.
An ideal gift for the ladies and bringing additional charm from Paramount Zone this Christmas is the "Remote Control Candle Set." Available in a pack of three the LED candles come complete with handset, providing the safest of ways to bathe the home in candlelight.
Everyone enjoys a drink at Christmas and a novel way for the ladies to take a tipple is with a "Lip Flask." This novel Yuletide gift is shaped like lipstick –albeit an oversized one - and can hold ½ an ounce of her favourite drink. What is more this very feminine present fits easily inside a handbag.
One way for anyone to express love for the lady in their life at Christmas is to give a piece of wall art emblazoned with the word "Love." This beautiful "Love Wall Art" will fit in with any décor thanks to its neutral tones and will bring delight to the household for many years to come.
An alternative is the "Champagne Tulip Wall Art" giving the lady those symbols of love – champagne and flowers – in art form, making the absolutely perfect Christmas present.
There's nothing better than lying on the sofa on a late winter evening feeling all warm and snug. The perfect present for a lady this Christmas is a "Cozy Blanket with Sleeves." Coloured pink or blue this unique "garment" is a perfect yet quirky gift and will delight the recipient.
Another gift to keep her warm through Christmas and the winter moths is a pair of "Microwavable Slippers." Available in red they keep the feet warm after just two minutes in the microwave.
The website Paramountzone.com was started by founder James Morris in 1999 and has seen rapid growth over recent years due to an affordable range of fun gadgets and gifts. With a priority on originality, the Paramount Zone buying team search far and wide to bring the most innovative gifts and toys to customers.