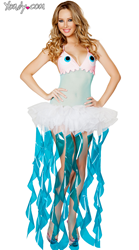 'Girls want to stand out, be unique, make people laugh, and look sexy while doing so,' said Yandy founder and CEO, Chad Horstman.
Phoenix Ariz. (PRWEB) October 16, 2014
Sexy costumes are as synonymous with this time of year for twenty-something women as pumpkin spice lattes and knee high boots, and as Halloween approaches, Yandy.com has announced the top sexy costumes for 2014 based on Facebook "likes" and Pinterest "pins" by customers. As expected, the most talked about costumes on social media predictably correspond with Yandy's most popular costumes as October passes the half way mark.
Year after year Yandy has noticed that the most socially popular costumes are those that turn heads versus the more basic costumes, like nurses and maids, that seem to be traditional Halloween party staples. "Girls want to stand out, be unique, make people laugh, and look sexy while doing so," said Yandy founder and CEO, Chad Horstman. "So far, 2014 is no exception to that," added Horstman.
Without further ado, the top five costumes based on social media popularity on Facebook and Pinterest for Halloween 2014 from Yandy.com are:
1. Officer Sexy Costume
2. Deluxe Jellyfish Costume
3. Sexy Top Gun Flight Suit Costume
4. One-Eyed Master's Helper Costume
5. Sexy Lobster Costume
Other notable popular costumes just outside of the top five for 2014 include the Galaxy Gremlin, Pink Sexy Jellyfish, Red and Yellow Striped Clown and Sexy Taco. One popular costume from years past that seems to be holding steady this year is the Sexy Pizza Slice costume which was infamously popular on social media and the internet in general in 2013.
As the Halloween season continues, Yandy sees no faltering in the popularity of its unusual sexy costumes. "Every day our most unique costumes gain more and more attention and we're already brainstorming ideas to make 2015's selection even more attention-grabbing," said Horstman.
Customers that are looking to purchase one of Yandy's most popular get ups will have to act fast as many are already beginning to sell out. "It never fails, the costumes people call and request most are the ones that sold out early on in the season because of their popularity online," said Horstman.
Not only does Yandy.com boast one of the largest selections of sexy standard and plus size one-of-a-kind and sexy Halloween costumes available online, but the site also offers customers a free lace panty with every order, free shipping on all orders over $70 and same day shipping for every order all the way up to Halloween.
About Yandy.com
Yandy.com is one of the world's largest online retailers of women's lingerie, sexy Halloween costumes, swimwear, rave wear, shoes, wigs and hosiery on the web. Founded in 2003, Yandy boasts more than 7,000 affordably priced products which are always in stock, allowing for quick, same-day shipping. Designated as a Google Trusted Store, Yandy prioritizes unrivaled customer service and a commitment to ensuring that every customer receives a safe and secure online shopping experience. At Yandy, every customer can Be Sexy.
###