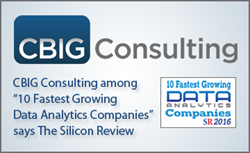 Chicago, IL (PRWEB) March 02, 2016
The Silicon Review's February issue, which designates its 2016 picks for the "Ten Fastest Growing Data Analytics Companies," features global Big Data Analytics provider CBIG Consulting for its successful, growing body of work that gives enterprises impactful, data-driven solutions and innovative tools to improve their profitability and stay competitive.
CBIG has grown its success and business reputation on a commitment to developing scalable analytics solutions that can be applied to most business sectors. CBIG's Managing Partner John Onder stated that in the last few years, clients worldwide have come to depend on CBIG Consulting's consistent progress in advancing more strategic-minded business intelligence programs that are easy to deploy, can expand and even evolve over time.
Unlike other consulting groups that have subject matter expertise in only one or two areas, he said, CBIG's project delivery model is a team approach that integrates and combines the talents of management consultants, data scientists and analysts, data architects and engineers, and managed services staff. The result is a full life-cycle engagement approach that guides projects from beginning to end, starting with strategic management and goal-setting, pivoting to solution development and implementation, and then graduating to managed support services options. Onder added, "CBIG has grown into a complete resource to enable data-driven businesses to thrive in today's competitive marketplace."
About CBIG Consulting
CBIG Consulting is an international team of experts in Business Intelligence, Big Data Analytics, Data Warehousing, and Cloud-based Analytics platforms. Named a top BI and Big Data consulting firm by independent research organizations and publications, CBIG's management consultants, business analysts, data architects and engineers are seasoned professionals dedicated to the analytics space. CBIG works with global enterprises, mid-size businesses, and non-profit organizations in solving mission-critical reporting and analytical needs. CBIG is headquartered in the Chicago area and has additional offices in San Francisco, Boston, Denver, Austin, Raleigh, and Seattle in the U.S.; Sydney, Melbourne, Auckland and Singapore serving the Asia-Pacific region; and London serving the EMEA region. For more information, please visit http://www.cbigconsulting.com.