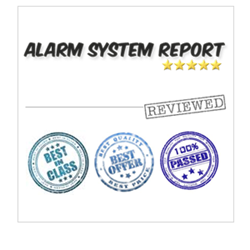 The winners of the best DIY alarm systems are great places to start when searching for the perfect do it yourself alarm system for your home.
Cleveland, Ohio (PRWEB) May 19, 2014
The rise in the use of do-it-yourself alarm systems in the market came with the growing use of cellular and wireless systems that have effectively eliminated the need to do wiring. With a few simple tools, customers can now set up a functional alarm system in about half an hour or so.
This new trend has obliged the experts at Alarm System Report to take a closer look at the industry and review the Best Do-It-Yourself Alarm System Companies for 2014. After a series of evaluations, the following are the companies that made it to the review site's prestigious list – FrontPoint Security, LifeShield Home Security, Protect America, and Vivint Home Security.
To be able to come up with reviews that are accurate and relevant to customers, Alarm System Report has used the following criteria used in the selection and evaluation process – pricing details, quality of equipment, ease of installation, customer services history, and technical support.
AlarmSystemReport.com's do-it-yourself alarm system reviews discussed each of these aspects of the alarm system company with utter fairness and carefulness. On top of these aspects, running promotional offers and discounts are also provided for the readers so they are aware of savings that they can incur upon purchase. Complete phone numbers of the featured alarm companies were also included so that customers could call up their prospect alarm system provider.
Alarm System Report has also included available informative videos that demonstrate the process of DIY installation in its DIY alarm system reviews. Consumers who are having difficulty in deciding whether they'll opt for DIY systems could use these instructional videos to decide if they can handle DIY installations.
Alarm System Report has emphasized on having lower up-front costs as the ultimate benefit of purchasing a DIY alarm system. According to the review authority, DIY installations get the customer to save dollars by removing the professional installation charges, which usually range from $100 to $250, on the up-front costs. It noted that while choosing DIY installation doesn't really reduce the rates of the equipment and monitoring services, this amount that customers can save from having to pay for someone else to install the system is substantial enough for budget-conscious homeowners.
Alarm System Report also highlighted DIY alarm systems' mobility feature. According to the review site, the system's easy-to-install and easy-to-uninstall characteristic makes it easy and stress-free for customers to transfer the whole system as they move houses.
All these points were part of the reviews released by AlarmSystemReport.com that are now available for free for all those who are interested in purchasing alarm system solutions for their homes.
About AlarmSystemReport.com
AlarmSystemReport.com provides the best alarm and security system reviews for potential home alarm system buyers. The reviews featured on the site were made through the help of security system experts after a series of thorough and comprehensive assessments.
# # #