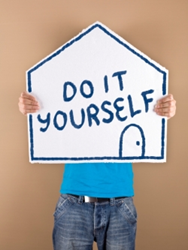 For homeowners who love Do-It-Yourself work, the installation of a home security system can be an easy and gratifying task.
El Paso, Texas (PRWEB) September 25, 2013
Whether a homeowner is a weekend warrior, or very inexperienced when it comes to home improvements, there are a number of easy projects that can be completed, which will help save money in both the short and the long term. The professionals at SecuritySystemReviews.com, a site that provides home security system reviews, such as FrontPoint reviews, has created a list of DIY tips that are budget-friendly. All of the tips are quick fix solutions that prevent big spending in the future.
1. Clean rain gutters on a regular basis—typically at least twice a year is ideal. Rain gutters that aren't properly cared for can lead to a plethora of very serious construction-related problems. Cleaning them regularly saves money in the long term on expensive repairs that can result from water damage.
2. Deep clean carpets. Homeowners can rent professional level carpet cleaning machines from several different retail outlets. Clean carpets can not only increase the value of a home, but it also reduces allergens in a home, making healthcare less expensive. Regularly cleaning carpet can also extend its life, and help homeowners avoid replacing it as often.
3. Check smoke alarms and replace the batteries when necessary. Not only do smoke alarms help prevent expensive and potentially deadly house fires, but they can also save homeowners money on their insurance premiums when they're in good working order.
4. Consider installing a DIY security system. This will save money and the heartache of theft, and is also another great way to save money on homeowners insurance. It's also a good idea to install a home automation security system, which can help save money on the cost of energy and utility costs. A home automation system can be used to control everything from the thermostat to a home's lighting.
5. Keep the lawn trimmed and well-cared for—particularly when it comes to trimming shrubs and bushes. This has several benefits—the first is that an overgrown lawn can make a home a target for burglars. The second benefit is that it prevents costly insect infestations, such as termites.
6. Seal cracks around a home. Cracks around windows, doors and any other area in a home are a big source of energy inefficiency. It's a quick fix for even the most inexperienced of homeowners, and can save big money on energy bills each month.
About SecuritySystemReviews.com
SecuritySystemReviews.com is an independent, third-party site providing reviews and information relating to the home security system industry. The site also has coupons and discount codes which can help consumers save money on home security system prices for top companies, including ADT, Vivint, Lifeshield and Protect America.