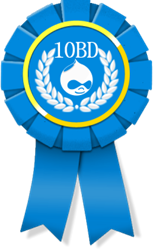 San Francisco, California (PRWEB) March 24, 2014
10 Best Design has given out its awards to the top 10 Best Drupal Web Design Firms for March 2014. These firms have shown exemplary work in the realm of Drupal web design, which is a free software package that makes it easy to manage, organize and publish customized content. 10 Best Design, one of the the biggest awards organizations of its kind, recognizes web design companies for their continual and successful efforts in various design-centric segments. As part of their award systems, 10Best gives honors to the companies who best implement web designs into the Drupal CMS.
The Best Drupal Web Design Firms according to 10 Best Design come from all over the country, as well as British Columbia and Vancouver. The top three awards went to Magic Logix of Carrollton, Texas, in the number one spot, followed by Dotlogics of Melville and Great Neck, NY, in second, and Web Development Group based out of Alexandria, Virginia, in third. The numbers four through 10 spots went to Project6 Design of Berkeley, CA, CommonPlaces out of Manchester, NH, Deck Fifty Design out of Victoria, British Columbia, ImageX Media out of Los Angeles, CA, and Burnaby, Vancouver, Level Ten Interactive out of Dallas and Austin, TX, Lullabot out of Providence, Rhode Island, and OpenCircle out of Mill Valley, CA, respectively. Each were scored through exhaustive research, quantitative analysis, qualitative analysis, results and successes to come up with a percentage scoring system. These top 10 Drupal Web Design firms have demonstrated an ability to make their own trends rather than follow the crowd.
Magic Logix, in the number one spot, offers comprehensive customized automation services for worldwide clients, with developers skilled in everything from Marketo and Drupal to Magento and Joomla. The company specializes in developing cross-functional solutions that are custom tailored to each client's requirements. Named a fast-growth company by Inc. 500 and Lead411's Technology 200, Magic Logix offers services in design, development, ecommerce, search, social and marketing automation. In second place, Dotlogics prides itself on being an award-winning interactive web agency catering to clients all over the planet. It has worked on 700 projects in its 11-year history, with services ranging from web design and development to mobile applications and branding. In third place, Web Development Group is made up of a team of skilled designers, developers and strategists working to provide information architecture, design and Drupal development, all within a user-centered approach for the client.