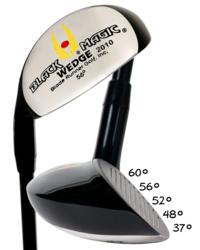 Black Magic Wedge Carries Some of the Top Hybrid Golf Wedges for the Short Game
Nationwide (PRWEB) July 03, 2013
Golf requires a number of elements to achieve success on the course. There are psychological aspects to the game, such as being in the moment, reading the situation and the mechanics correctly, picking the right club and of course luck also plays a vital part to even the best players. Many golfers watched the U.S. Open this year, where there were many fantastic shots to the greens. Some received lady luck which helped players at times and at other time, put them in tricky situations; where their skill with top golf wedges was necessary to stay in the hunt.
There are many golf equipment reviews to read that companies put out about their products. It seems that the best players prefer traditional wedges and irons as we watched the unbelievable accuracy and control they displayed, however, even the best players can shank a shot with a traditional top golf wedges. Blade Runner Golf Inc. Is a company that specializes in the short game with a new approach to all those difficult bunker and short game shots that require a specific touch. The patented hybrid wedges, by Black Magic Wedge, have received many positive golf equipment reviews; from pros and amateurs worldwide, for their versatility and confidence building design.
The top golf wedges new design has a hybrid body with an iron face. The hosel' has been removed from the face so players can lay the face open for flop shots and be exceptionally creative with all those short difficult shots without ever worrying about shank shots. From bunkers to heavy roughs Black Magic Wedge's are taking the short game to a new level.
Blade Runner Golf knows that one size does not fit all players. All their products Conform to USGA Rules and can be custom ordered for length, flex and grip thickness at no extra cost. Each club comes with a premium head cover and booklet on how to become a brilliant short game player.
Blade Runner Golf's commitment is to build confidence with a set of wedges that gives players the tools to be creative with the part of the game that no two shots are ever the same. The short game requires a strong imagination. Imagination with confidence is what makes perfect players.
ABOUT:
Blade Runner Golf, Inc. Is a company devoted to the notion that a golfer's short game can make all the difference in his or her final score—but you can take your short game to the next level only if you have the right equipment. Black Magic's hybrid wedges conform to USGA rules, but also help golf enthusiasts find new precision and power as they make their way onto the putting green. Black Magic Wedge can be accessed on the web at: http://www.blackmagicwedge.com
Contact:
Black Magic Wedge
2519 McMullen Booth Rd
Suite 510-129
Clearwater, FL 33761
Phone 727-726-5737
Toll Free 877-799-6099
Sales(at)blackmagicwedge(dot)com