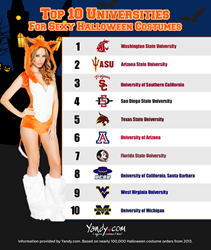 Towns with warm weather climates are typically ranked highest in this sort of analysis, as many of these costumes are admittedly more revealing.
PHOENIX, Ariz. (PRWEB) October 08, 2014
Yandy.com, the country's largest online retailer of sexy Halloween costumes, has released the results of a study ranking the top 10 zip codes for total sales during the 2013 Halloween season. Pulling from more than 95,000 orders from October 1 to October 31, 2013, nine of the 10 zip codes turned out to be linked directly to major college towns, resulting in Yandy's first ever list of Top 10 Sexiest Universities for Halloween.
Pullman, WA, home of Washington State University, unexpectedly topped the list with the highest number of sexy Halloween costume orders of any United States zip code in October 2013. "To be honest, we were pretty surprised," said Chad Horstman, Founder and CEO of Yandy.com. "Major population centers like New York, Chicago and Los Angeles were far and away the largest cities in terms of overall sales, but when we broke it down to specific zip codes, we saw Pullman sitting there at the top."
After digging deeper into the statistics, the company also observed that sales of sexy pirate costumes in the Pullman zip code were almost four times higher than the average ratio in other zip codes. This increase in sexy pirate costume orders led to speculation that the spike was driven by students paying homage to famed WSU football coach Mike Leach's much-publicized affinity for pirates.
Rounding out the top five zip codes from Halloween 2013 were the college towns housing Arizona State University, University of Southern California, San Diego State University and Texas State. "Towns with warm weather climates are typically ranked highest in this sort of analysis, as many of these costumes are admittedly more revealing," said Horstman.
The University of Arizona, Florida State University, UC Santa Barbara, West Virginia University and the University of Michigan at Ann Arbor completed the Top 10.
From more than 95,000 orders, the New York City neighborhood of Murray Hill was the only non-university zip code to crack the company's top 10 list.
Since launching in 2006, Yandy.com has emerged as a leading online retailer of both lingerie and sexy costumes, with popular media personalities including Jon Stewart and Ellen DeGeneres regularly citing Yandy costumes as some of the most noteworthy costumes of each Halloween season on their national television programs.
About Yandy.com
Yandy.com is one of the world's largest online retailers of women's lingerie, sexy Halloween costumes, swimwear, rave wear, shoes, wigs and hosiery on the web. Founded in 2003, Yandy boasts more than 7,000 affordably priced products which are always in stock, allowing for quick, same-day shipping. Designated as a Google Trusted Store, Yandy prioritizes unrivaled customer service and a commitment to ensuring that every customer receives a safe and secure online shopping experience. At Yandy, every customer can Be Sexy.
###