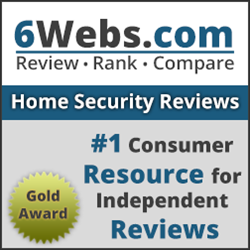 Get the most up to date scoop on home security systems at 6Webs.com.
Seattle, WA (PRWEB) August 30, 2013
6Webs is the leading source of unbiased and independent alarm system reviews. Homeowners that are in the market for an alarm system can compare the features and services of the best security system companies online at 6Webs.com. Each year the home security system experts at 6Webs.com conduct a thorough investigation of dozens of home alarm companies and publish their rankings on their website. The 6Webs.com staff has released their recommendation of the top 3 home alarm providers that provide cellular-based monitoring services.
http://www.6webs.com/best-home-security-systems/
According to Tim Smythe, the senior editor for 6Webs, "There are several companies that offer cellular-based monitoring as an option for customers, however the highest rated company according to the 6Webs reviews offers only cellular monitoring. That company is FrontPoint Security. Their 100% cellular offering is one of the reasons they earned the top spot in the 2013 home security reviews."
The best alarm system company that offers cellular-based monitoring services is FrontPoint Security. FrontPoint Security is well-known for providing their customers with remarkable customer service and sustaining an outstanding rating on the Better Business Bureau.The other top home security system companies that offer cellular monitoring services are Protect America and ADT Security. Protect America has brought an incredible value to the security system market by offering free upfront equipment. ADT Security, the leader in professionally installed home security systems, has been in business for over a century and has over 6 million customers.
Cellular based monitoring is becoming more and more important to consumers due to its increased reliability. Compared to phone line or Internet-based home security systems, cellular system do not rely on wires to transmit data to the home security's central monitoring station. These older systems can be circumvented by an intruder by simply cutting the wires that run outside the home. To see how the features and services of each home security company compares visit 6Webs.com at:
http://www.6webs.com/home-security-systems-reviews/
About 6Webs.com
6Webs.com targets providing consumers with unbiased home security systems reviews. Buyers can quickly compare the leading home security alarm system companies on 6Webs.com to help them select the best security system for their family. Shoppers will find useful articles and tips on 6Webs.com's home security blog to help them lead a safer and more secure lifestyle. Visit 6Webs.com for the most up-to-date comparisons and reviews of the top rated security system companies.