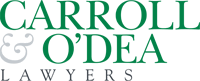 Sydney, Australia (PRWEB) August 29, 2014
Sydney, Australia based law firm, Carroll & O'Dea has been accepted into membership by the International Society of Primerus Law Firms, a highly selective society of the world's finest independent boutique law firms. The firm was accepted following a rigorous screening process by the Primerus Accreditation Board.
About Carroll & O'Dea
Carroll & O'Dea is a full service Australian law firm with offices in Sydney, Canberra, Newcastle, Wollongong, Parramatta and shared office facilities in other major Australian state capitals. The firm's 65 plus lawyers provide legal services of the highest quality and with the utmost integrity. The firm has done so for over 115 years. Above all, Carroll & O'Dea seeks to provide practical solutions for their clients in all areas of practice. Their talented team of lawyers include accredited specialists in business law, property law, employment law, commercial litigation and personal injury law.
About Primerus
The International Society of Primerus Law Firms (Primerus) is a society of top-rated, independent, boutique law firms that have earned the right to display the Primerus seal of quality. As one of the most respected law firm societies, Primerus has become the size of some of the world's largest law firms. Primerus is growing at an unprecedented pace, and is expanding throughout the U.S., Asia, Europe, Middle East, Africa, Latin America, and the Caribbean. With nearly 200 member law firms and thousands of lawyers in the society, Primerus members, collectively, offer the breadth of expertise and jurisdictional coverage that only the world's largest law firms can offer to their clients, but at more reasonable rates. Law firms in the U.S. and Canada must be AV-rated using the Martindale-Hubbell peer review service. For firms outside of North America, consideration is given to respected resources, such as, Chambers Global Guide, Legal 500 EMEA, and IFLR 1000. Additionally, once approved for membership, every Primerus firm is audited annually to ensure that the legal services they continue to provide to clients are of a consistent, high quality, year after year.