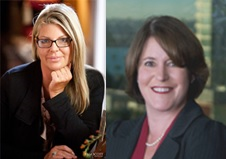 San Diego, California (PRWEB) April 21, 2014
Ferris & Britton, APC is pleased to introduce its two newest attorneys to the firm, Jodi L. Doucette and Evelyn Wiggins. Both women come from years of experience within private practice and government agencies, assisting medium to national sized clients with legal issues ranging from labor and employment, to litigation and corporate matters.
Ms. Doucette represents businesses, public entities, and individuals in advisory and litigation matters. She has served as a Senior Assistant City Attorney for the City of National City, a Deputy City Attorney for the City of Oceanside, and a Deputy County Counsel for the County of San Diego. She is corporate counsel for various entities. She has extensive experience in civil litigation, land use and zoning, personnel, contracts, and business negotiations. She was awarded Bitmore's Who's Who award in 2011 and Who's Who of American Women in the 2000-2004 editions.
For more than 25 years, Ms. Wiggins has advised individuals, businesses and nonprofit agencies on all aspects of federal and state labor and employment laws. Evelyn's experience touches on virtually all legal and regulatory issues applicable to employment decisions, including discrimination, wrongful termination, employment contracts, compensation and wage and hour regulations. She counsels and represents clients in civil litigation, as well as administrative proceedings before the National Labor Relations Board, the Department of Fair Employment and Housing, the Equal Employment Opportunity Commission and the California Labor Board. Evelyn frequently conducts workplace investigations into claims of misconduct, discrimination and policy violations.
Ferris & Britton is proud to expand its firm to include these two highly experienced and skilled attorneys. They will join the already accomplished litigation department, headed up by Mr. Michael Weinstein.
About Ferris & Britton
The firm, located in downtown San Diego assists in meeting the needs of their clients in general business, securities, litigation, employment and labor, telecommunications, high technology, estate planning, taxation, and real estate issues. Ferris & Britton attorneys were recognized as Top Lawyers in 2014 by San Diego Magazine and have received numerous awards over the forty-six years it has been serving San Diego.
For more information, visit their website at http://www.ferrisbritton.com. You may also follow these two women's careers and get updates on various legal issues on our firm blog at http://www.ferrisbritton.com/blogs.php.
Ferris & Britton, APC is a member of the International Society of Primerus Law Firms.