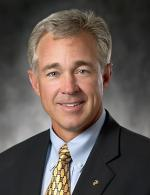 "It is an honor for me to run this prestigious program to help educate and mentor attorneys on developing the knowledge and skills necessary to be good trial lawyers
San Diego, California (PRWEB) September 11, 2014
Neil Dymott shareholder Clark R. Hudson will be chairing the Association of Southern California Defense Counsel (ASCDC) San Diego Litigation Conference held at the Lodge at Torrey Pines on September 19-20, 2014. This conference will focus on the status of the Courts, civility, defending catastrophic claims, and trial tactics.
"At Neil Dymott, we like to get involved." "It is an honor for me to run this prestigious program to help educate and mentor attorneys on developing the knowledge and skills necessary to be good trial lawyers" said Hudson.
"Clark Hudson is the perfect pick for this position – he is trying more cases than any defense attorney in San Diego." - Judge Herbert Hoffman
About Neil, Dymott, Frank, McFall & Trexler APLC
Neil, Dymott, Frank, McFall & Trexler APLC was founded in San Diego in 1964 and is a multi-service law firm with offices in San Diego, and throughout Southern California. The firm represents clients in a wide range of industries and specialty areas, including employment law, civil litigation, pharmaceutical and medical products manufacturers, transportation, intellectual property, insurance, medical, accounting and other professional practices.
Neil, Dymott, Frank, McFall & Trexler APLC is a member of the International Society of Primerus Law Firms.