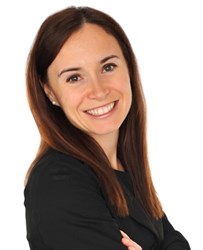 Guangzhou, China (PRWEB) October 10, 2013
HJM Asia Law Managing Partner, Caroline Berube, recently earned the Certification in Corporate Governance from Collège des administrateurs de societies (CAS) at Université Laval in Canada.
Recognized in Ontario, Quebec and France as a leading standard for directorship, the CAS program seeks to train individuals in the practice of good corporate governance, promoting knowledge and skills necessary to fulfill duties as a Director with fairness, integrity and quality. CAS is unique in Quebec and leads to the Certified Corporate Director (ASC) designation. CAS designation is also recognized as equivalent of the Chartered Director" (C.Dir.) designation in Ontario, Canada.
Ms. Berube's new designation as a Certified Corporate Director symbolizes our firm's continuous effort to improve our service to clients. Good governance is necessary for any type of business, to ensure not only that organizations comply with the laws and regulations, but also that they adhere to objectives and internal policies.
About HJM Asia Law & Co LLC
HJM Asia Law & Co LLC is a boutique law firm in Asia with more than a decade of legal experience. HJM Asia Law combines an in-depth knowledge of Asian legal systems with the expertise, client service, and efficiency of a Western business operation.
Their law firm has full time dedicated and competent teams based in China and Singapore. In addition to their in-house team, they have over the years formed strategic alliances with various international law firms and have built and maintained good relationships with Chinese authorities.
HJM Asia Law & Co LLC is a member of the International Society of Primerus Law Firms.