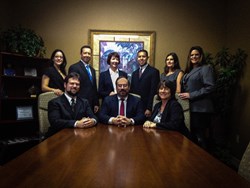 Valrico, Florida (PRWEB) September 17, 2013
Bivins & Hemenway, P.A. has been named a finalist for the 2013 Greater Brandon Chamber of Commerce Small Business of the Year Awards as a result of the firm's excellent business performance and commitment to its community. This is the sixth year in a row that Bivins & Hemenway has been nominated by its peers, and the second year in a row being named a finalist for this prestigious award.
The Greater Brandon Chamber of Commerce bestows Small Business of the Year Awards in recognition of business people who have "exemplified leadership and positive growth and development" in operations as well as a "true commitment to community service." The Awards will be presented this year at the Chamber's Small Business of the Year Gala, scheduled for October 17, 2013.
Nominees this year went through a three part judging process before the three finalists were selected. The judging process includes personal interviews, onsite inspections and a review of operations.
Robert Bivins, Managing Partner of Bivins & Hemenway, P.A. stated, "We are more than proud to have been nominated by the Chamber membership and selected as a finalist by the independent panel of judges from SCORE. We view the nomination as a positive statement about how our firm is viewed by over 1,200 fellow Chamber members, both as a law firm and as a corporate citizen in our community. We are also very proud that our financial discipline and business practices are viewed positively by SCORE, which is composed of successful, seasoned business professionals."
About Bivins & Hemenway, P.A.
Bivins & Hemenway, P.A., is a full service real estate and business law firm serving clients throughout West Central Florida from offices located in the commercial heart of the fast-growing community of Brandon, located just east of Tampa, Florida. The firm is committed to providing sophisticated legal services to its clients in a timely, practical, and effective manner that emphasizes value, and personal attention. The firm enjoys an outstanding reputation for professional integrity and client satisfaction and its individual lawyers and professional staff are proud of the role they have played over the years in countless successful business transactions and real estate projects, as well as in zealously advocating the interests of their clients. The lawyers of Bivins & Hemenway, P.A., are also dedicated to meaningful community involvement in various civic, charitable, and business associations within their communities.
Bivins & Hemenway, P.A. is a member of the International Society of Primerus Law Firms.