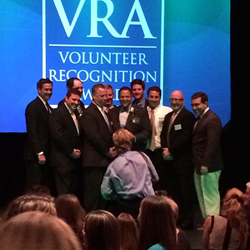 Melbourne, Florida (PRWEB) January 27, 2015
Melbourne law firm, Widerman Malek, P.L. was honored at the Florida Today Volunteer Recognition Awards ceremony on November 6th as the 2014 Business of the Year. The firm has been recognized for its many volunteer efforts throughout the year.
Widerman Malek, P.L. is a community based law firm that gives its time, talents and treasure to support many organizations. With a focus on helping children and veterans, the firm encourages all of its employees to volunteer in the community. Some of the organizations that the firm supports includes The Scott Center for Autism Treatment at the Florida Institute of Technology, The Rolling Readers of the Space Coast, Brevard Symphony Orchestra, Bridges Foundation, Sentinels of Freedom, March of Dimes, Space Coast Early Intervention Center, Junior Achievement of the Space Coast, Promise of Brevard, The Epilepsy Association of Central Florida, and many more.
The firm has also recently enhanced their volunteerism and giving by starting the No Bad Days Foundation to support the needs of children with disabilities. The firm encourages their friends, clients and colleagues to join them in supporting these and other organizations, and to volunteer their time to the community.
About Widerman Malek, P.L.
The family and community-centered approach of Widerman Malek, P.L. is apparent through their down-to-earth, common sense approach to their clients' legal matters.
Widerman Malek, P.L. is able to provide a full range of services for all your business law needs whether a corporation, limited liability company, partnership, or another business entity. Widerman Malek, P.L. assist their clients in the prosecution and defense of complex civil and commercial litigation, and assists inventors in obtaining patent protection in many different technologies in both the United States and internationally. The firm also provides a full range of services involved in obtaining federal, state and foreign trademarks, enforcement and cancellation proceedings, and assists their clients in all forms of intellectual property litigation.
Widerman Malek, P.L. is a member of the International Society of Primerus Law Firms.