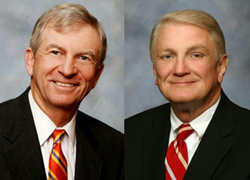 Augusta, GA (PRWEB) June 10, 2014
JAMES Magazine, a leading Georgia publication focusing on government, politics and business, has selected lawyer David Hudson and lawyer Patrick Rice, both of Hull Barrett, PC, as two of the magazine's 2014 Most Influential Attorneys. Only 4 attorneys in private practice in the CSRA received this honor. This recognition was announced in the May/June 2014 edition of the publication.
"Along with the dictionary definition of 'influential,' JAMES Magazine's spotlight on 'influential Georgia attorneys' takes into consideration not just expertise in court … but activity influencing the court of public opinion. This listing takes into account a lawyer who may or may not serve powerful clients but who shapes public or private policies."
Phil Kent compiled the article featured in JAMES Magazine. He is also "co-publisher of Insider Advantage and a panelist on Atlanta Fox5 WAGA-TV's 'The Georgia Gang.'"
Mr. Hudson was recognized for his expertise in libel and the First Amendment. He also serves as counsel for Georgia Press Association. Mr. Hudson has received numerous awards and recognitions including being named as Georgia Trend's Legal Elite in 2012 and named in the annual lists of both Best Lawyers and Georgia SuperLawyers. David Hudson practices in the area of general civil litigation with an emphasis on business and commercial disputes, media law and construction law. He has been a trial lawyer since 1974.
Mr. Rice was honored for his representation and work with Augusta National Golf Club. Not only was Mr. Rice selected as a Most Influential Attorney, but he is continually honored for his work both professionally and socially; Mr. Rice was also recently named in the annual list of 2014 Georgia SuperLawyers and received the St. Thomas More Award. Patrick Rice has been a trial lawyer since 1966 and practices in the areas of general civil litigation, health care and general business matters.
Both David Hudson and Patrick Rice practice out of the Augusta location of Hull Barrett, PC.
About Hull Barrett, PC
Established in 1916 in Augusta and 1872 in Aiken, Hull Barrett, PC is a law firm with a long successful history in Georgia and South Carolina. With 24 lawyers plus support staff, the firm provides top quality legal representation and unparalleled service to its clients and the community. Hull Barrett has depth of experience in the areas of Litigation and Dispute Resolution; Business, Corporate and Government; Real Estate; Labor and Employment; Estate Planning; and Intellectual Property. It has offices in Augusta, Evans, and Aiken.
Hull Barrett, PC is a member of the International Society of Primerus Law Firms.