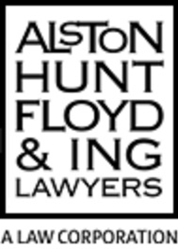 Honolulu, Hawaii (PRWEB) December 02, 2014
Benchmark Litigation, the guide to America's leading litigation firms and attorneys, has selected Alston Hunt Floyd & Ing (AHFI) as a "highly recommended" firm for litigation in the state of Hawai`i. "Highly recommended" firms received the most mentions in Benchmark's extensive interviews with clients and peers, and are held as dominant in their jurisdiction.
In addition to the overall firm ranking, the following AHFI attorneys received individual recognition: Paul Alston, William S. Hunt, Shelby A. Floyd, Louise K.Y. Ing, Ellen Godbey Carson, David A. Nakashima, Jade L. Ching, Corianne W. Lau, Anna Elento‐Sneed, Dianne Winter Brookins, Judy A. Tanaka, Kenneth S. Robbins and Clyde J. Wadsworth.
Ing is also recognized as one of Benchmark's Top 250 Women in Litigation in America, based upon the results of Benchmark's 2014 research and rankings.
To see the publications online, go to http://www.benchmarklitigation.com.
Bet the company. Grow the company. We have the right skills and strategies for both.
Founded in 1991, Alston Hunt Floyd & Ing counsels and represents clients in all types of civil matters, including business disputes, real property matters, bankruptcy and insolvency, civil rights, healthcare law, employment law, government contracts, government relations, and strategic planning.
Alston Hunt Floyd & Ing is a member of the International Society of Primerus Law Firms.