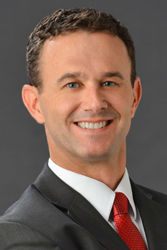 Blaine has strong skills and provides great service to our clients. He has contributed much since joining the firm, and we are pleased he is joining our leadership team
Honolulu, HI (PRWEB) January 13, 2015
Alston Hunt Floyd & Ing (AHFI) is pleased to announce that J. Blaine Rogers has been named a stockholder/director of the firm.
"Blaine has strong skills and provides great service to our clients. He has contributed much since joining the firm, and we are pleased he is joining our leadership team," said AHFI President Paul Alston.
Rogers, who joined the firm in 2008, practices in the areas of commercial litigation, lender liability, real estate and land use, title insurance and escrow, bankruptcy litigation, environmental and cultural resources, collections and foreclosures, constitutional and civil rights, class actions and appellate law. In 2012, he was named among Hawai`i's Outstanding Pro Bono Attorneys for his work with the Hawai`i Appleseed Center for Law and Economic Justice as part of the AHFI team which obtained an injunction prohibiting the State of Hawai`i from depriving low-income legal migrants from Micronesia, the Marshall Islands and Palau of critical healthcare benefits (Civ. No. 10-00483 JMS KSC). He was also recognized for his work with the Hawaii Disability Rights Center to help restore drastic reductions in services to mentally ill adults. His community involvement includes volunteering for Volunteer Legal Services of Hawaii.
Before joining AHFI, Rogers clerked for the Honorable David Alan Ezra, U.S. District Court for the District of Hawai`i. Prior to that, he served as the first Legal Fellow in a joint program between the State of Hawai`i Department of the Attorney General and the Department of Land and Natural Resources, administratively prosecuting Hawai`i's first coral damage cases. Rogers received his J.D. from the William S. Richardson School of Law, and his B.A. from the University of California, Los Angeles. He has a Martindale-Hubbell AV rating.
Bet the company. Grow the company. We have the right skills and strategies for both.
Founded in 1991, Alston Hunt Floyd & Ing counsels and represents clients in all types of civil matters, including business disputes, real property matters, bankruptcy and insolvency, civil rights, healthcare law, employment law, government contracts, government relations, and strategic planning.
Alston Hunt Floyd & Ing is a member of the International Society of Primerus Law Firms.