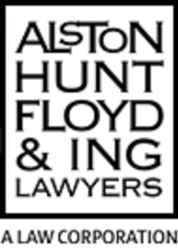 We appreciate the recognition from the industry as well as our peers for the hard work we do for our clients day in and day out
Honolulu, Hawaii (PRWEB) February 25, 2015
Alston Hunt Floyd & Ing (AHFI) has been named Hawai`i Firm of the Year in the 2015 U.S. Benchmark Litigation Annual Awards. This is the third year in a row AHFI has been honored. "We appreciate the recognition from the industry as well as our peers for the hard work we do for our clients day in and day out," said AHFI President Paul Alston.
The shortlist of nominated firms was derived from peer review and research conducted between March and November 2014 for the 2015 edition of Benchmark Litigation, the guide to America's leading litigation firms and attorneys.
Read more about the awards event, held January 30 in New York City, at http://www.benchmarklitigation.com
Bet the company. Grow the company. We have the right skills and strategies for both.
Founded in 1991, Alston Hunt Floyd & Ing counsels and represents clients in all types of civil matters, including business disputes, real property matters, bankruptcy and insolvency, civil rights, healthcare law, employment law, government contracts, government relations, and strategic planning.
Alston Hunt Floyd & Ing is a member of the International Society of Primerus Law Firms.