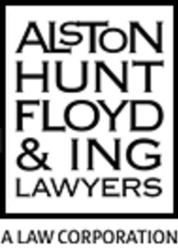 Honolulu, Hawaii (PRWEB) September 18, 2014
The recently released 2014 Hawaii Business Top 250 ranks Alston Hunt Floyd & Ing (AHFI) among the state's most successful organizations. The list is a comprehensive ranking of island businesses based on annual gross sales for Hawai`i operations. AHFI comes in at number 200, moving up from 213 in 2013. Read more about the Hawaii Business Top 250 methodology here, and read more about the 2014 list here.
About Alston Hunt Floyd & Ing
Founded in 1991, Alston Hunt Floyd & Ing counsels and represents clients in all types of civil matters,
including business disputes, real property matters, bankruptcy and insolvency, civil rights, healthcare law, employment law, government contracts, government relations, and strategic planning.
Alston Hunt Floyd & Ing is a member of the International Society of Primerus Law Firms.