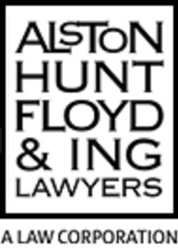 Honolulu, Hawaii (PRWEB) October 21, 2014
According to court documents, the U.S. Court of Appeals for the Ninth Circuit has vacated the federal district court's judgment in Jackson et al v. Abercrombie, the Hawai`i marriage equality case. The district court had upheld Hawai`i's prior marriage law excluding same-sex couples, but last week the Ninth Circuit remanded to the district court with instructions to dismiss the case as moot because the Marriage Equality Act, which was passed by the Hawai`i Legislature and took effect December 2, 2013, provides marriage equality for same-sex couples.
Alston Hunt Floyd & Ing (AHFI) attorney Clyde J. Wadsworth, co-counsel for the plaintiff-appellants, argued the case before the Ninth Circuit on September 8, 2014. "We are glad to see the district court judgment vacated," said Wadsworth, "particularly in light of the Ninth Circuit's decisions striking down discriminatory marriage laws in Idaho and Nevada."
Jackson v. Abercrombie first challenged Hawai`i's denial of marriage to same-sex couples in 2012. After a federal district court judge upheld Hawai`i law, Jackson was appealed to the Ninth Circuit, where it was placed on hold pending the U.S. Supreme Court's decisions regarding the Defense of Marriage Act (DOMA), which denied federal benefits to legally married gay couples. In June 2013, the Court struck down that part of DOMA. (Jackson et al v. Abercrombie 12-16995 and 12-16998)
Watch video of the oral argument here; Wadsworth appears at the beginning of the recording with rebuttal at the 23-minute mark.
Read the disposition here.
See prior coverage of the case here.
Bet the company. Grow the company. We have the right skills and strategies for both.
Founded in 1991, Alston Hunt Floyd & Ing counsels and represents clients in all types of civil matters, including business disputes, real property matters, bankruptcy and insolvency, civil rights, healthcare law, employment law, government contracts, government relations, and strategic planning.
Alston Hunt Floyd & Ing is a member of the International Society of Primerus Law Firms.