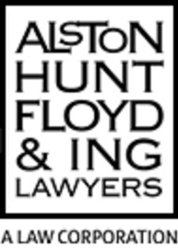 Honolulu, HI (PRWEB) November 05, 2014
Alston Hunt Floyd & Ing (AHFI) has been named to the U.S. News and Best Lawyers® 2015 Best Law Firms list, which ranks law firms based on client and peer evaluations. Achieving a tiered ranking signals a unique combination of quality law practice and breadth of legal experience. In the metropolitan rankings, the Tier 1 categories in which AHFI is recognized for the Hawai`i market include:
Administrative / Regulatory Law
Arbitration
Commercial Litigation
Employment Law – Management
Government Relations
Healthcare Law
Labor Law – Management
Litigation – Antitrust
Litigation – Construction
Litigation – Environmental
Litigation – First Amendment
Litigation –Labor & Employment
Litigation – Real Estate
Mediation
Bet the company. Grow the company. We have the right skills and strategies for both.
Founded in 1991, Alston Hunt Floyd & Ing counsels and represents clients in all types of civil matters, including business disputes, real property matters, bankruptcy and insolvency, civil rights, healthcare law, employment law, government contracts, government relations, and strategic planning.
Alston Hunt Floyd & Ing is a member of the International Society of Primerus Law Firms.