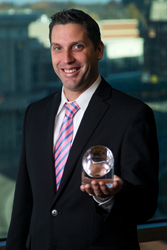 Lexington, Kentucky (PRWEB) December 09, 2014
Fowler Bell PLLC is pleased to announce that attorney Casey C. Stansbury has been selected as the 2014 recipient of the Albert H. Parnell Outstanding Program Chair Award.
"This award honors and individual who created a dynamic education program enhancing DRI's image, and who further has led and participated in effective planning, marketing and presentation of the education program. The honoree also displayed leadership, dedication and creativity in seminar development. Above all of these achievements, the program met organization expectations established for the seminar. The award will be presented at the Awards Luncheon, Thursday, October 23rd at the 2014 DRI Annual Meeting in San Francisco, California. The luncheon will feature keynote speaker Vernice "FlyGirl" Armour, America's first African-American female combat pilot." - J. Michael Weston, President DRI
Casey C. Stansbury is a member in the firm's Litigation, Government and Municipal Law, and Electronic Discovery Groups representing local, regional and national clients with a focus on client advocacy, meticulous attention to detail and a commitment to obtaining solutions to the most challenging client matters. Mr. Stansbury's practice focuses on governmental liability, constitutional law and civil rights, insurance defense and coverage issues.
About Fowler Bell PLLC
Fowler Bell is Kentucky's commercial, bankruptcy and litigation law firm known for finding practical solutions to complex matters. Based in Lexington, it serves business clients throughout the Commonwealth and the U.S. It is known for handling complicated financial matters, especially in the areas of bankruptcy and creditor rights, complex litigation and mediation, insurance defense, real estate and collections.
Beyond their substantial experience and professional expertise, Fowler's attorneys are widely respected for their integrity, responsiveness and wise counsel. They take a no-nonsense approach to finding solutions and resolving conflicts. They offer guidance, reassurance and results to clients facing tough business or personal challenges.
Fowler Bell PLLC is a member of the International Society of Primerus Law Firms.