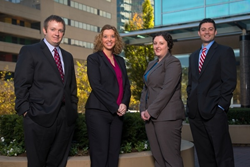 Lexington, Kentucky (PRWEB) February 02, 2015
Fowler Bell PLLC is pleased to announce that Matthew Ellison, Christina Vessels, Christopher Colson, and Tia Combs are included in the Rising Stars in 2014-2015 Kentucky Super Lawyers list.
This is the first time for Matthew, Christopher and Tia to be listed by Super Lawyers. While up to five percent of the lawyers in the state are named to Super Lawyers, no more than 2.5 percent are named to the Rising Stars list.
The selection process for the Rising Stars list is the same as the Super Lawyers selection process, with one exception: to be eligible for inclusion in Rising Stars, a candidate must be either 40 years old or younger or in practice for 10 years or less.
All attorneys first go through the Super Lawyers selection process. Those who are not selected to the Super Lawyers list, but who meet either one of the Rising Stars eligibility requirements, then go through the Rising Stars selection process.
About Fowler Bell PLLC
Fowler Bell is Kentucky's commercial, bankruptcy and litigation law firm known for finding practical solutions to complex matters. Based in Lexington, it serves business clients throughout the Commonwealth and the U.S. It is known for handling complicated financial matters, especially in the areas of bankruptcy and creditor rights, complex litigation and mediation, insurance defense, real estate and collections.
Beyond their substantial experience and professional expertise, Fowler's attorneys are widely respected for their integrity, responsiveness and wise counsel. They take a no-nonsense approach to finding solutions and resolving conflicts. They offer guidance, reassurance and results to clients facing tough business or personal challenges.
Fowler Bell PLLC is a member of the International Society of Primerus Law Firms.