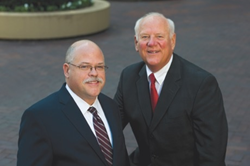 Lexington, Kentucky (PRWEB) February 05, 2015
Fowler Bell PLLC attorneys and staff are pleased to welcome William G. Francis and James M. Francis to the Fowler Bell law firm.
William G. Francis is Of Counsel in the firm's Alternative Dispute Resolution, Litigation, Insurance, Commercial & Business Law and Education Law Groups, with a focus on mediation, insurance defense, insurance coverage, professional liability, personal injury, civil litigation and education law. Mr. Francis has represented clients in Eastern Kentucky for over 40 years and served as Special Justice of the Kentucky Supreme Court appointed by Governor Beshear. In addition, Mr. Francis has received membership into the National Academy of Distinguished Neutrals (NADN).
James M. Francis is Of Counsel in the firm's Intellectual Property and Commercial & Business Law Groups. He is a highly experienced patent and trademark attorney as well as a business law attorney. Mr. Francis represents local, national and international clients in a variety of industries seeking US and foreign intellectual property protection including chemicals, electronics, fashion, medical devices and music. His litigation experience includes patent, trademark, copyright, products liability, and insurance bad faith matters, including several cases in the Eastern District of Texas.
About Fowler Bell PLLC
Fowler Bell is Kentucky's commercial, bankruptcy and litigation law firm known for finding practical solutions to complex matters. Based in Lexington, it serves business clients throughout the Commonwealth and the U.S. It is known for handling complicated financial matters, especially in the areas of bankruptcy and creditor rights, complex litigation and mediation, insurance defense, real estate and collections.
Beyond their substantial experience and professional expertise, Fowler's attorneys are widely respected for their integrity, responsiveness and wise counsel. They take a no-nonsense approach to finding solutions and resolving conflicts. They offer guidance, reassurance and results to clients facing tough business or personal challenges.
Fowler Bell PLLC is a member of the International Society of Primerus Law Firms.