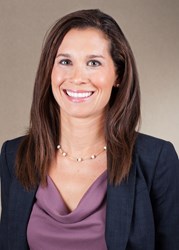 Raleigh, NC (PRWEB) January 22, 2014
Smith Debnam is pleased to announce that Christina McAlpin Taylor has been named partner at the firm. She is a member of the firm's creditors' rights practice group and represents a wide range of businesses through all stages of creditor representation, including pre-suit collection efforts, lawsuits, judgments, executions and counterclaim defense.
Christina earned a Juris Doctor from North Carolina Central University Law School and a Bachelors degree from East Carolina University. She is a member of the North Carolina Bar Association, Commercial Law League of America, National Association of Retail Collection Attorneys, North Carolina Creditors' Bar, and the Wake County Bar Association.
Christina is also active in her community serving with the YMCA's Community Hope program, acting as a Teen Court Judge, is a graduate of the Leadership Raleigh program through the Greater Raleigh Chamber of Commerce, and serves as the Recruitment Chair on the Leadership Raleigh Board. In 2011, Christina was selected as Leader in the Law through North Carolina Lawyer's Weekly, created to spotlight those within the legal community who are working to better the legal profession through mentoring and involvement within their community, as well as going above and beyond in their everyday job.
Christina lives in Raleigh with her husband Robert and two sons John Robert and Henry.
About Smith Debnam
Smith Debnam is a mid-sized North and South Carolina law firm with its main office in Raleigh, NC. The firm's practice includes Corporate and Business Law, Business Litigation, Commercial Bankruptcy and Reorganization, Foreclosures, Creditor Representation, Collections, Commercial & Residential Real Estate, Construction Law, Employment Law, Equipment Leasing & Finance, Family Law, Estate Planning & Administration, Immigration Law, and Professional Negligence.
Smith Debnam is a member of the International Society of Primerus Law Firms.