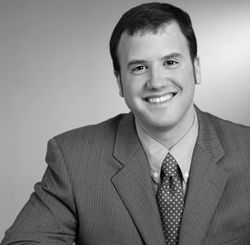 Sam is a tremendous asset to our firm, with his strong entrepreneurial drive and leadership excellence
Raleigh, North Carolina (PRWEB) January 29, 2015
Raleigh-based law firm Smith Debnam today announced that Samuel D. Fleder has been named a partner in the firm. Fleder joined Smith Debnam in 2009 and has been a pivotal member of the firm's creditors' rights practice group, representing clients both in North Carolina and South Carolina in matters involving financial services litigation, creditor defense, commercial litigation, foreclosure, and creditor bankruptcy.
"Sam is a tremendous asset to our firm, with his strong entrepreneurial drive and leadership excellence," said Jerry T. Myers, the firm's managing partner. "There is no doubt he will play an important role in our continued growth."
Fleder brings significant business experience and education to his litigation-focused creditors' rights practice. Sam earned his J.D. and a M.B.A. from Campbell University and a B.A. in political science from Duke University, with a license to practice law both in North Carolina and in South Carolina.
Prior to law school, Fleder was vice president of a New Jersey-based Internet marketing start-up where he spent two years gaining significant real world business experience. While in law school, he served as membership editor of the Campbell Law Review, and served as an elected representative to the Campbell Law Student Bar Association for three years, serving as president in his third year. Fleder's law school accolades also include the I. Beverly Lake Constitutional Law Award, the Calhoun Advocacy Award; the Order of Old Kivett; the David E. Teddy Student Leader Award; and the Student Bar Association Service Award.
For three straight years since 2013, Fleder has earned placement on the North Carolina Super Lawyers® Rising Stars list. The Rising Stars list recognizes top attorneys who are 40 or under, or who have been practicing for 10 years or less. Fleder is a member of the South Carolina Bar Association, South Carolina Bankers Association, North Carolina Bar Association, North Carolina Bankers Association, and North Carolina Creditors Bar Association.
About Smith Debnam
Founded in 1972, Smith Debnam is the law firm of choice for clients in the Banking, Financial Services, Equipment Leasing, Construction, Mortgage Servicing, Manufacturing, and Professional Services industries. The firm has extensive experience in state and federal courts across a diverse list of practice areas, including Corporate and Business Law, Business Litigation, Commercial Bankruptcy and Reorganization, Foreclosures, Creditor Representation, Collections, Commercial & Residential Real Estate, Construction Law, Employment Law, Equipment Leasing & Finance, Family Law, Elder Law & Advocacy Services, and Estate Planning & Administration.
Smith Debnam is a member of the International Society of Primerus Law Firms.